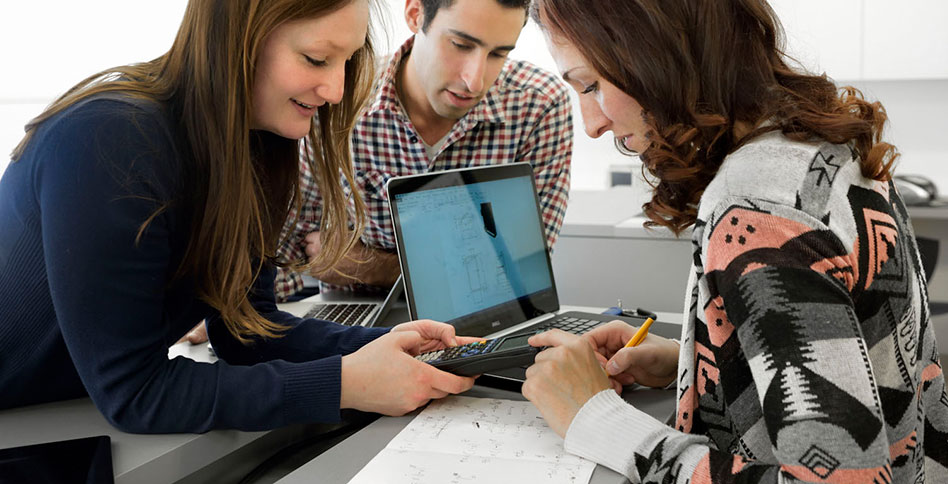 Engineering Management, B.S.
Full-time Faculty: X. Yu, S. Lu, J. Scire, R. Tabi, F. Li, J. Ma, D. Carka, M. Toma
NYIT offers courses leading to the Bachelor of Science in Engineering Management.
The primary objectives of the engineering management curriculum (as written in the college catalog and on the department's website) are to produce versatile engineering graduates capable of growth within industry or prepared to pursue advanced studies. The objectives listed below reflect NYIT's overall mission: career-oriented education to prepare students for successful careers in an information-age society and applications-oriented research; expanding the knowledge base of society; and contributing to economic development of the region, state, and nation.
The important mission element to emphasize is the applied orientation of the college in general, and the engineering programs in particular. In our Engineering Management program, students will learn about engineering leadership, financial management, project analysis, operations management, and quality control. Our engineering management curriculum is complemented by a core liberal arts curriculum that includes critical thinking, communications, and other skills needed in today's global marketplace. Established sequences for students provide them with a broad education and the flexibility to allow some degree of depth in an area of interest.
Providing the curriculum's backbone are the sciences, mathematics and the basic levels of engineering management courses, which constitute the fundamental knowledge base needed by students for an array of advanced courses. NYIT's liberal arts and humanities core curriculum is designed to provide students with additional knowledge and skills related to job and graduate school success. It is concerned with the student as a citizen and community leader; to that end, it provides a broad perspective of history, philosophy, and literature. One of the major features of the core curriculum is an emphasis on learning through written, oral, and electronic presentations. These communication skills carry over effectively into advanced mechanical engineering courses.
Within this general direction and the mission and vision of the College of Engineering and Computing Sciences, our program faculty, with input from stakeholders such as employers, alumni, and industrial advisory board members, have determined Program Educational Objectives to prepare versatile engineers who:
Are successfully employed in engineering or their chosen career path,
Pursue graduate studies and/or continued education in their field, and
Function as responsible members of society through engagement in community or professional organizations.
To support these objectives, the curriculum has been developed to provide student outcomes that describe what degree candidates are expected to know and be able to do by the time they graduate. Upon graduation, students are expected to acquire an ability to:
Apply knowledge of mathematics, science, and engineering
Design and conduct experiments and analyze and interpret data
Design a system, component, or process to meet desired needs within realistic constraints such as economic, environmental, social, political, ethical, health and safety, manufacturability, and sustainability
Collaborate on multidisciplinary teams
Identify, formulate, and solve engineering problems
Understand professional and ethical responsibility
Communicate effectively
Understand with broad education the impact of engineering solutions in global, economic, environmental, and societal contexts
Engage in and recognize the need for lifelong learning
Understand and know about contemporary issues
Use the techniques, skills, and modern engineering tools necessary for engineering practice
Five-Year Combined Option: B.S. in Engineering Management and M.S. in Energy Management – BS with Accelerated MS Option
NYIT offers a five-year combined degree option leading to a Bachelor of Science in Engineering Management and a Master of Science in Energy Management. For the details, please contact the chairperson of the Department of Mechanical Engineering.
---
Back to Top
This program follows our general admission requirements.
Application Materials
Completed application
$50 nonrefundable application fee
Copies of transcripts of all high school work, including college-level courses. Your midyear and final grades will be required. All final, official transcripts must be received prior to the start of your first semester.
Official SAT (critical reading and math only) or ACT test scores. You have the option of submitting results from the previous or redesigned SAT. If you have fewer than 24 credits of previous college work completed, you will need to submit official SAT or ACT scores.


NYIT SAT Code: 2561, NYIT ACT Code: 2832

Two letters of recommendation

300–350 word essay on one of the following topics:

Tell us about your career goals and why attending NYIT would further these goals.
Describe the achievement of which you are most proud and why.