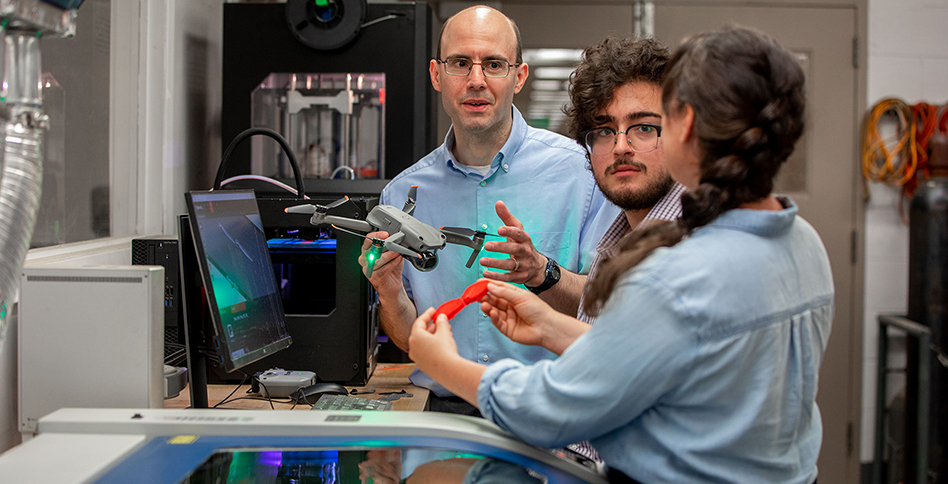 Electrical and Computer Engineering Technology, B.S.
Full-time Faculty: K. Ahmed, L. Amani, L. Amara, R. Meyers, L. Pavlidis
Students in this program receive the value of a practice-oriented engineering education that prepares them for real world electrical and computer engineering technology careers. Our program is one of just a few that bridges the two major areas of electrical technology and computer technology. Students enrolled in this program obtain the opportunity to receive training in both fields. They will acquire the theoretical background and practical skills that enables them to build electrical and computer-based systems, to apply programming techniques that drive devices and/or systems, to design IOT applications, to design software apps, to analyze communications circuits and control systems, to design and analyze basic fiber optics communications links, to understand and apply technologies to the many layers of computer networking, to apply the techniques learned from project engineering courses, etc. To keep abreast of current practices in the electrical and computer engineering technology industry, we update our program's curriculum on a regular basis.
The results of our ECET alumni surveys show that our graduates hold positions in a wide range of technical areas. These positions include work dealing with component design, testing and evaluation, production engineering, design, development and distribution, field engineering, quality control, technical management, and information technology. Our graduates continue to play a major role in the industry, bridging technology and human needs to enhance people's daily life while ensuring protection of our environment.
Our graduates can look forward to working with state and city agencies, and, in most states, after three years of field experience, they will automatically qualify to sit for the Professional Engineer Exam.
In keeping with the mission of our college, and using input from like-minded stakeholders such as employers, alumni, and our own Industrial Advisory Board, our faculty have identified three program educational objectives. We have designed these objectives to prepare a body of versatile graduates who:
Will secure successful employment in electrical and computer engineering technology or a related career path
Will pursue graduate studies and/or continuing education in their field of expertise
Will function as responsible members of society through engagement in community and/or professional organizations
To support these objectives, our curriculum articulates six disparate student outcomes. By the time of graduation, students must have demonstrated:
An ability to apply knowledge, techniques, skills and modern tools of mathematics, science, engineering, and technology to solve broadly-defined engineering problems appropriate to the discipline
An ability to design systems, components, or processes meeting specified needs for broadly-defined engineering problems appropriate to the discipline
An ability to apply written, oral, and graphical communication in broadly-defined technical and non-technical environments; and an ability to identify and use appropriate technical literature
An ability to conduct standard tests, measurements, and experiments and to analyze and interpret the results to improve processes
An ability to function effectively as a member or leader on a technical team
A commitment to the application of professional and ethical responsibilities, to the respect for diversity and quality and to the demonstration of continuous improvement
Entering students enroll directly in our program as candidates for the Bachelor of Science degree. We also admit prospective students holding an A.A.S. degree in electronics/electrical engineering technology or other related areas as junior-year candidates in our baccalaureate degree program.
International F-1 students who successfully complete this degree are eligible for an additional 24-month STEM OPT extension to work in the U.S. in an area directly related to their area of study immediately upon completing the customary 12-month post-completion Optional Practical Training (OPT).
The Electrical and Computer Engineering Technology program is accredited by the Engineering Technology Accreditation Commission (ETAC) of ABET, Inc., 111 Market Place, Suite 1050, Baltimore, MD 21202, 410.347.7700, abet.org.
Co-op (Cooperative Education) Option
This B.S. program also offers a co-op option. The co-op program is a mechanism to enable students to prepare themselves for the job market while pursuing their undergraduate degrees. Typically, junior or senior students work full-time for six months at an industrial partner related to their major or career interests. During this time, students earn a salary and do not pay tuition. The skills, contacts, and real-world know-how gained through the co-op program—combined with what is learned in the classroom—creates a unique and holistic educational experience. Please note that the co-op option will extend the degree program by one semester. Enrolling in the co-op is optional, but students must apply for placement in the program. For details, please contact the co-op program coordinator.
Five-Year Accelerated Option – Accelerated Path to Master's Degree (APMD)
The college offers an accelerated five-year accelerated degree option leading to a Bachelor of Science in Electrical and Computer Engineering Technology and a selected number of Master of Science Degrees. Students with a GPA above 3.0 can be accepted into the Accelerated M.S. Options program, and become eligible to take three graduate-level courses in their junior and senior years, which can be applied to both their undergraduate and graduate degree requirements within the College of Engineering and Computing Sciences at no additional cost.
For details, please visit the Accelerated Program Options page, and contact the chairperson of the Department of Electrical and Computer Engineering Technology.
---
Back to Top
This program follows our general admission requirements.
Application Materials