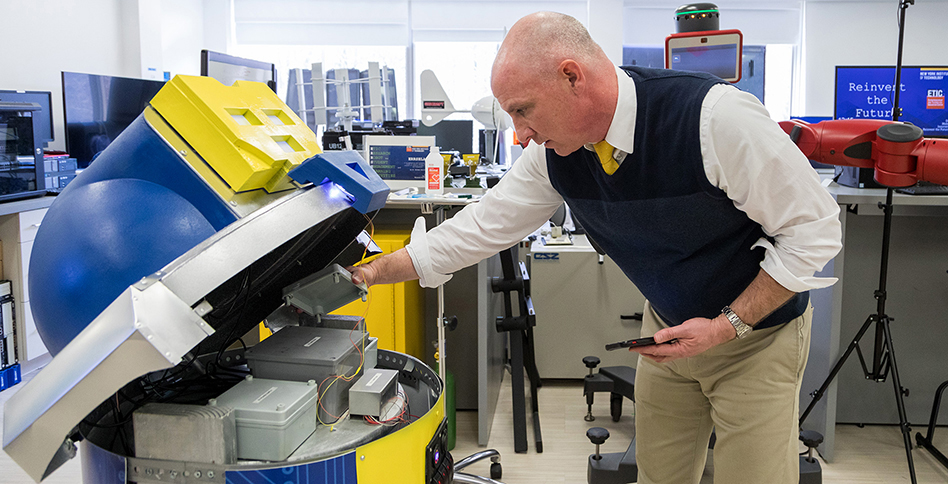 Engineering Management, B.S.
Full-time Faculty: X. Yu, J. Scire, F. Li, W. Zeng, T. Ioppolo, Q. Liu, K. Mishra, J. Seidel
The primary objectives of the engineering management curriculum (as written in the college catalog and on the department's website) are to produce versatile engineering graduates capable of growth within industry or prepared to pursue advanced studies. The objectives listed below reflect New York Institute of Technology's overall mission: career-oriented education to prepare students for successful careers in an information-age society and applications-oriented research; expanding the knowledge base of society; and contributing to economic development of the region, state, and nation.
The important mission element to emphasize is the applied orientation of the college in general, and the engineering programs in particular. In our Engineering Management program, students will learn about engineering leadership, financial management, project analysis, operations management, and quality control. Our engineering management curriculum is complemented by a core liberal arts curriculum that includes critical thinking, communications, and other skills needed in today's global marketplace. Established sequences for students provide them with a broad education and the flexibility to allow some degree of depth in an area of interest.
Providing the curriculum's backbone are the sciences, mathematics, and the basic levels of engineering management courses, which constitute the fundamental knowledge base needed by students for an array of advanced courses. The university's liberal arts and humanities core curriculum is designed to provide students with additional knowledge and skills related to job and graduate school success. It is concerned with the student as a citizen and community leader; to that end, it provides a broad selection of history, philosophy, and literature. One of the major features of the core curriculum is an emphasis on learning through written, oral, and electronic presentations. These communication skills carry over effectively into advanced mechanical engineering courses.
Within this general direction and the mission and vision of the College of Engineering and Computing Sciences, our program faculty, with input from stakeholders such as employers, alumni, and industrial advisory board members, have determined program educational objectives to prepare versatile engineers who:
Are successfully employed in engineering or their chosen career path
Pursue graduate studies and/or continuing education in their field
Function as responsible members of society through engagement in community or professional organizations
To support these objectives, the curriculum has been developed to provide student outcomes that describe what degree candidates are expected to know and be able to do by the time they graduate. Upon graduation, students are expected to have an ability to:
Apply knowledge of mathematics, science, and engineering
Design and conduct experiments and analyze and interpret data
Design a system, component, or process to meet desired needs within realistic constraints such as economic, environmental, social, political, ethical, health and safety, manufacturability, and sustainability
Collaborate on multidisciplinary teams
Identify, formulate, and solve engineering problems
Understand professional and ethical responsibility
Communicate effectively
Understand with broad education the impact of engineering solutions in global, economic, environmental, and societal contexts
Engage in and recognize the need for lifelong learning
Understand and know about contemporary issues
Use the techniques, skills, and modern engineering tools necessary for engineering practice
International F-1 students who successfully complete this degree are eligible for an additional 24-month STEM OPT extension to work in the U.S. in an area directly related to their area of study immediately upon completing the customary 12-month post-completion Optional Practical Training (OPT).
Co-op (Cooperative Education) Option
This B.S. program also offers a co-op option. The co-op program is a mechanism to enable students to prepare themselves for the job market while pursuing their undergraduate degrees. Typically, junior or senior students work full-time for six months at an industrial partner related to their major or career interests. During this time, students earn a salary and do not pay tuition. The skills, contacts, and real-world know-how gained through the co-op program—combined with what is learned in the classroom—creates a unique and holistic educational experience. Please note that the co-op option will extend the degree program by one semester. Enrolling in the co-op is optional, but students must apply for placement in the program. For details, please contact the co-op program coordinator.
Five-Year Accelerated Option: B.S. in Engineering Management and M.S. in Energy Management
The college offers a five-year accelerated degree option leading to a Bachelor of Science in Engineering Management and a Master of Science in Energy Management. Students with a GPA above 3.0 can be accepted into the Accelerated M.S. Options program, and become eligible to take three graduate-level courses in their junior and senior years, which can be applied to both their undergraduate and graduate degree requirements within the College of Engineering and Computing Sciences at no additional cost. For details, please contact the chairperson of the Department of Mechanical Engineering.
---
Back to Top
This program follows our general admission requirements.
Application Materials