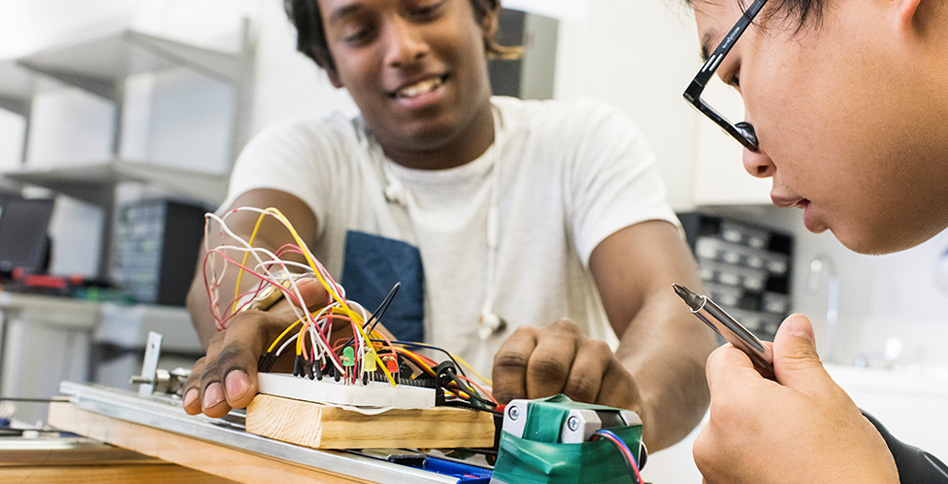 Electrical and Computer Engineering Technology, B.S.
Full-time Faculty: L. Amani, L. Amara, B. Dastgheib-Beheshti, A. Kashani, R. Meyers, L. Pavlidis, G. Salayka
Adjunct Faculty: R. Benferhat, V. Leggio,
The Department of Electrical and Computer Engineering Technology (ECET) offers courses leading to the degree of Bachelor of Science in this field. Students in this program receive the value of a practice-oriented engineering education: emphasis on practice-based learning via hands-on laboratories using state-of-the-art equipment and emphasis on key facets of problem solving in a 'real world' environment. Our program provides students with a combination of theory and practical experience that enables them to design and implement solutions to today's electrical and computer engineering technology problems. Students acquire sufficient skills that enable them to build electrical and computer-based systems, program devices and/or systems, design IOT and micro-based systems, apply techniques of project engineering and much more.
ECET program graduates are familiar with the capabilities and limitations of current technology and are easily able to support specialized needs of local industry. These abilities allow them to secure jobs in design, implementation, testing, and manufacturing of engineering products. They can likewise work in engineering operations, sales, and technical services.
Results of our ECET alumni surveys show that our graduates hold positions in diverse technical areas such as component design, test and evaluation, production engineering, development and design, distribution, as well as field engineering, quality control, and information technology.
Entering students enroll directly in our program as candidates for the B.S. degree. We usually admit A.A.S. degree holders in electronics/electrical engineering technology or in a related area as a third-year candidate for the B.S. degree program.
After three years of field experience, moreover, in most states our graduates automatically qualify to sit for the Professional Engineer Exam.
In keeping with the mission of our school and using input from like-minded stakeholders such as employers, alumni, and our own Industrial Advisory Board, the ETEC faculty have identified three Program Educational Objectives, all designed to prepare a body of versatile graduates who:
Are successfully employed in electrical and computer engineering technology or their chosen career path,
Pursue graduate studies and/or continued education in their field, and
Function as responsible members of society through engagement in community or professional organizations.
To support these objectives, our curriculum articulates specific student outcomes. By the time of graduation, students must have:
1) an ability to apply knowledge, techniques, skills and modern tools of mathematics, science, engineering, and technology to solve broadly-defined engineering problems appropriate to the discipline;
(2) an ability to design systems, components, or processes meeting specified needs for broadly-defined engineering problems appropriate to the discipline;
(3) an ability to apply written, oral, and graphical communication in broadly-defined technical and non-technical environments; and an ability to identify and use appropriate technical literature;
(4) an ability to conduct standard tests, measurements, and experiments and to analyze and interpret the results to improve processes; and
(5) an ability to function effectively as a member or leader on a technical team.
The Electrical and Computer Engineering Technology program is accredited by the Engineering Technology Accreditation Commission of ABET, Inc., 111 Market Place, Suite 1050, Baltimore, MD 21202, 410.347.7700, abet.org.
Five-Year Combined Option – Accelerated Path to Master's Degree (APMD)
NYIT offers an accelerated five-year combined degree option leading to a Bachelor of Science in Electrical and Computer Engineering Technology and a selected number of Master of Science Degrees.
For details, please contact the chairperson of the Department of Electrical and Computer Engineering Technology.
---
Back to Top
This program follows our general admission requirements.
Application Materials
Completed application
$50 nonrefundable application fee
Copies of transcripts of all high school work, including college-level courses. Your midyear and final grades will be required. All final, official transcripts must be received prior to the start of your first semester.
Official SAT (critical reading and math only) or ACT test scores. You have the option of submitting results from the previous or redesigned SAT. If you have fewer than 24 credits of previous college work completed, you will need to submit official SAT or ACT scores.


NYIT SAT Code: 2561, NYIT ACT Code: 2832

Two letters of recommendation

300–350 word essay on one of the following topics:

Tell us about your career goals and why attending NYIT would further these goals.
Describe the achievement of which you are most proud and why.