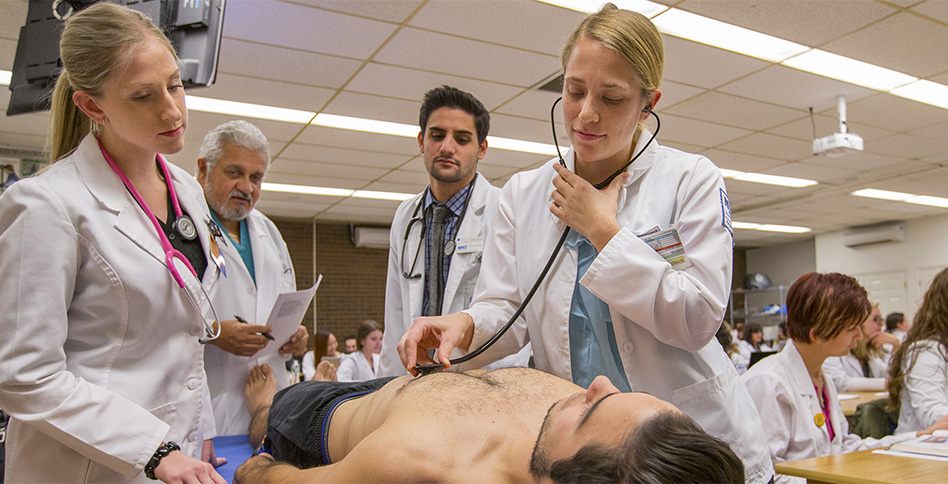 Physician Assistant Studies, M.S.
Physician Assistants (PAs) are medical professionals, educated and trained on the medical school model, who diagnose illness, develop and manage treatment plans, prescribe medications, counsel on preventive care, perform procedures, assist in surgery, do clinical research, among other responsibilities. With thousands of hours of medical training, PAs are versatile and collaborative. PAs are committed to an interdisciplinary team practice with physicians and other healthcare providers. PAs practice in every state and in every medical setting and specialty, improving healthcare access and quality.
The role of the PA demands intelligence, sound judgment, intellectual honesty, appropriate interpersonal skills, and the capacity to react to emergencies in a calm and reasoned manner. An attitude of respect for self and others, adherence to the concepts of privilege and confidentiality in communicating with patients, and a commitment to the patient's welfare are essential attributes of the graduate PA. PAs are educated at the master's degree level. The professional curriculum for PA education includes basic medical, behavioral, and social sciences; introduction to clinical medicine and patient assessment; supervised clinical practice; and health policy and professional practice issues.
The Masters of Science in Physician Assistant Studies is a full-time program. The three-year (30 months on-site) program encompasses 98 credits distributed over four traditional semesters of didactic education, followed by 48 weeks of intense clinical clerkships. View curriculum.
In the clinical phase, students complete more than 2,000 hours of clinical rotations in family medicine, internal medicine, surgery, emergency medicine, orthopedics, geriatrics, pediatrics, women's health, behavioral medicine and psychiatry. They also have a choice of an elective rotation.
The Accreditation Review Commission on Education for the Physician Assistant Inc. (ARC-PA) granted Accreditation-Continued status to the NYIT Physician Assistant Program, again this past September 2019, The approximate date for the next validation review of the program by the ARC-PA will be September 2029. The review date is contingent upon continued compliance with the Accreditation Standards and ARC-PA policy.
For information on the combined Bachelor of Science in Life Sciences/Master of Science in Physician Assistant Studies program, view Department of Biological and Chemical Sciences.
Technical Standards for Admission and Matriculation
The New York Institute of Technology Physician Assistant Program is committed to the admission and matriculation of highly qualified students and does not discriminate on the basis of race, color, national origin, religion, gender, or disability. Regarding disabled individuals, the college will not discriminate against such individuals who are otherwise qualified, but the college will expect that all applicants meet minimal technical standards as set forth herein. These standards reflect what has been determined as reasonable expectations for PA students and graduate PAs in performing common and important functions, keeping in mind the safety and welfare of patients. View our program's technical standards used for admission and matriculation of PA students as well as for the granting of a PA degree. These standards do not reflect what may be required for entry-level employment of the graduate PA.
Costs
In addition to tuition costs and fees, PA students will be responsible for costs associated with books, medical equipment, laptop, smartphone, lab coats, and Basic and Advanced Cardiac Life Support certification courses. See our program website for more information on the cost of attendance. It is often impossible to use public transportation to reach clinical clerkship sites. Prospective applicants are advised to budget for transportation costs, including mileage, tolls, and parking.
Academic Rigor
The Master's of Science in PA Studies is a full time and academically rigorous program. Therefore, it is strongly recommended that students do not work while enrolled in the program. During the third year of clinical rotations it is unlikely that a student can work as schedules on rotation sites constantly change.
Academic Criteria
The Masters of Science in PA Studies program is a competency based graduate-level curriculum. The following criteria must be met throughout the program:
Satisfactory professional conduct
Meet the academic progression standards outlined in the PA Student Handbook.
Grade of C or higher in every course
Academic policies are further delineated in the PA Studies Student Handbook, available on the School of Health Professions' website.
Grade Appeal
Students may appeal an assigned final course grade by following the procedures outlined in the School of Health Professions' grade appeal policy.
Academic Dismissal/Failure
Students must receive a cumulative grade point average (GPA) of 3.0 or above by the end of the two didactic years to progress to the clinical year. For more detailed information on policies of dismissal/failure, please refer to the PA Studies Student Handbook. The college identifies students that fall below a 3.0 GPA and places them on academic probation until the GPA reaches 3.0 or above. The program maintains the right to periodically update the policies in the handbook and students will be informed of such changes should they occur.
Graduation Requirements
Students are recommended for graduation upon satisfactory completion of all academic and clinical education requirements. A minimum cumulative GPA of 3.0 is required for graduation. The following are also required for graduation:
Successful completion of all didactic courses
Successful completion of all requirements of the clinical year
Satisfactory standard of professional conduct
Bursar account clearance
Clinical Education
PA students must have successfully completed all prior didactic coursework in order to be placed in clinical rotations. All PA students will participate in a total of 48 weeks of clinical clerkship education located in a variety of clinical settings and must successfully complete all clerkships to be eligible for graduation.
Applicants to the School of Health Professions should be aware that certain legal issues and/or convictions may preclude a student from being accepted by clerkships, internships and/or field work and impact the student's ability to complete the required program courses and qualify for graduation, certification and/or licensure. For full policies and procedures, refer to the PA Studies Student Handbook and Clinical Year Handbook.
---
Back to Top
Admission Requirements
The program accepts new students every academic year (beginning in September). The admission process is highly competitive. Applications are reviewed relative to undergraduate intensity of studies, cumulative and science GPA, patient care experience, personal narrative, and letters of reference. Personal interviews, required for admission, are offered to the most qualified individuals. Applicants who meet minimum requirements are not guaranteed an interview. For additional information, please visit our website.
Bachelor's degree or its equivalent from an accredited college or university (preferably in a science or health-related field)
Minimum overall GPA of 3.0
Academic record that includes a strong emphasis on science and mathematics
Minimum grade of B- in all prerequisite courses, which may be taken up to two times to achieve the required score. Pass grades earned during the spring 2020 semester meet this GPA threshold and are transferrable to NYIT.

The minimum prerequisite courses must be completed within the previous ten (10) years at a regionally accredited institution in the U.S. or Canada.
You must have no more than four outstanding prerequisites by the application deadline; only two of the four outstanding courses may be completed in the final spring semester.
Prerequisite courses include:

Two semesters of biology with laboratory; Genetics is highly recommended
Two semesters of general chemistry with laboratory
One semester of organic chemistry
One semester of biochemistry
One semester of microbiology (in addition to the two biology courses)
One semester of psychology
One semester of human anatomy AND one semester of human physiology OR a combination of Anatomy and Physiology I and II
Two semesters of college math; One of these courses must be statistics

Minimum of 250 hours of verifiable patient care experience in the U.S. healthcare system.
Meet the Technical Standards for the physician assistant program.

Application Materials

The following documents must be submitted directly to CASPA:

Submit application no later than October 1 for the class entering the following fall through the Central Application Service for Physician Assistants (CASPA). Specific instructions related to the application process can be found on the CASPA website. International applications must be complete, and all admissions materials and related documentation received, no later than November 1 of the year prior to the anticipated start date in order to ensure ample time for the visa application process.
Minimum of 100 hours of verifiable patient care experience in the U.S. healthcare system
Three professional letters of recommendation, including one from a physician assistant, osteopathic doctor, or medical doctor
One-page personal narrative (completed as part of the CASPA application)
Copies of undergraduate transcripts for all schools attended. All final, official transcripts must be received prior to the start of your first semester
Please do not submit any GRE or MCAT scores as they will not be part of our evaluation process.
Successful completion of a criminal background check after acceptance and prior to entry. Applicants to the School of Health Professions should be aware that certain legal issues and/or convictions may preclude a student from being accepted by clerkships, internships and/or field work and impact the student's ability to successfully complete the program and achieve certification and/or licensure
International student requirements: English proficiency, I-20, and transcript evaluation

NOTE: Certain legal issues and/or convictions may preclude you from being accepted for clerkships, internships, and/or fieldwork and may impact your ability to successfully complete the program and achieve certification and/or licensure.