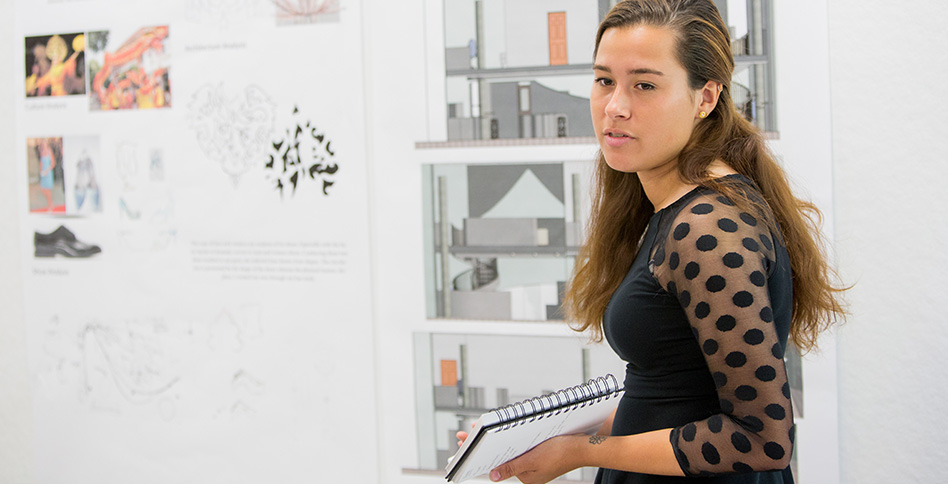 Interior Design, B.F.A.
Mission and Vision
The mission of the Interior Design Program of the School of Architecture and Design at the New York Institute of Technology, is to prepare graduates that are globally engaged, environmentally sensitive, and who have acquired the intellectual tools, artistic sensibility, and hands-on technical proficiency for high-level practice and interdisciplinary engagement.
The Program has been in existence for over half a century. Its long-term future will be based on the integration of cutting-edge technological tools with rock-solid, professional skills. Both of these anchored by the strong influential foundations of Hans Schroeder, the department's first Chair.
The vision of the Interior Design Department at NYIT is to be recognized as one of the leading CIDA-accredited programs offering outstanding career preparation within the unique context of a school of architecture and design. The Program offers its students comprehensive expertise in interdisciplinary practice models, which is supported by the leading edge of professional practice and the emerging, new technologies of the built environment.
The Offerings
There are two distinct offerings within the Program. The first is a track consisting of 130 credits towards a Bachelor of Fine Arts in Interior Design (BFA). The program also offers a unique second degree track: a 4+1 option; where the BFA in Interior Design, is overlapped with a 30 credit, Master of Business Administration (MBA) within the NYIT School of Management. The track provides a curriculum structure for students to take graduate, 500-level courses, recognized by the School of Management, towards their MBA, while they are in the BFA undergraduate program.
Students can attend, and faculty do teach, at both school locations: Old Westbury and New York City. All students admitted to the Interior Design Program begin their studies with a foundation year of design, visualization, history, and theory, along with the required NYIT Discovery Core courses. Combined cohorts of architecture and interior design students take these courses together. Direct admission into the first year of either track requires a minimum combined SAT score of 1080 (critical reading and math only) or ACT of 21.
Students failing to meet this requirement are permitted to matriculate with an Undeclared degree status in the School of Architecture and Design. Students then take select courses that foster the exploration of architecture and design and providing them with an opportunity to demonstrate academic success in a college setting. Completion of the first semester with a minimum cumulative grade average of 2.5 allows the Undeclared student access to the Bachelor of Fine Arts in Interior Design, or the 4+1 program.
The Interior Designer of Today
Interior design has taken on a multifaceted identity. As the interior design profession has gained prominence and professional stature, charged with the execution of important public safety and welfare functions, the designer is recognized as an integral member of the professional team alongside architects and engineers. This development has placed increased pressure on schools to maintain exacting standards and accreditation with councils charged with ensuring the students meet certain criteria related to maintaining the knowledge and expertise required for this demanding new role. The interior designer not only creates human environments that enhance the function and quality of public and private spaces, but also the expression of human values – by providing a context for human activity, improving the quality of life, increasing productivity, all while protecting the public's health and safety.
The course of study at NYIT's Interior Design Program, prepares students for the rewarding challenges of designing for the 21st century. The program focuses on the relationship between human performance and environment through an innovative mix of studio design projects, profession-specific coursework, community-oriented projects, and internships in the field. Complementing these experiences, the program also incorporates study abroad and multiple, interactive ventures with furniture, madia, textile, lighting, and other material manufacturers. New York is a major metropolitan area with significant centers of design, showrooms of products, practitioners' studios and offices, as well as access to iconic public spaces.
Links for the student are established with professionals through office and project site visits. To enhance student learning, the program reaches out, not only locally and regionally, but also globally. In April 2012, the program was one of 18 schools from around the world invited to participate in the celebrated Salone Satellite exhibition in Milan, Italy, one of the world's most exclusive design and furniture fairs.
The Curriculum
The curriculum of the Interior Design program includes coursework that covers all aspects of professional interior design. Advanced courses in interior design cover such topics as materials, color, digital modeling and rendering, animation, CNC fabrication, 3D printing, BIM, computer-aided drawing (CAD), building codes, history of interior design and architecture, furniture design, lighting, business procedures, and special projects. There is a strong correlation between the different levels of courses. The curriculum is sequential, with the knowledge that the skills and design sensibilities gained at each level directly affect succeeding levels as students advance through the program.
A special aspect of the program is that many faculty members are practicing professionals in the fields of interior design, architecture, industrial design, graphics, and other related professions. This cross-disciplinary approach mirrors real-world interaction and relationships. As the professions of interior design and architecture reference each other more and more, this aspect becomes a critical and important distinction for both programs.
The cultural diversity and broad life experiences of our student cohorts are integral to the program. To ensure opportunity for students with diverse backgrounds, portfolios are only voluntarily submitted for review (and are not required) as part of the admission process. However, all students are required to submit an evaluation/portfolio for review, and have a 2.75 cumulative index or a 3.0 average in interior design coursework after completion of their second semester of second year. Acceptance of the evaluation/portfolios is required prior to admittance to the third year of study. Transfer students who are applying for interior design, architecture, or fine arts credits must have a portfolio review with the department to determine their position in the program.
Students work closely with faculty advisors who serve as an academic and professional mentors throughout their years at NYIT. To further refine professional development, students are required to participate in an internship. To be eligible, students must have sophomore or higher status and at least one semester in NYIT with 2.0 or better GPA. The course may be repeated; and is zero credit. The internship requirement is for a minimum of 256 hours and affords the student the opportunity to gain practical experience, increase professionalism, develop a basic understanding of the work environment, and sharpen career focus.
From Study to Professional Practice
In the final year of study, students develop a capstone thesis, which serves to showcase their skills and accrued knowledge in the design program. They develop and research a program, select a site, and conceptualize and design an interior environment. The research, documents, and images that result are presented to a professional jury of practitioners and professors.
Scholarship opportunities specifically for NYIT interior design students include the Brendalyn Stempel Scholarships (selected by the donor and available to students entering their fourth year of studies), and the ELF awards through the local ASID chapter and awarded through the department each year. In addition, our students have applied for and been recipients of the National Donghia Scholarships, IIDA, and NEWH scholarships.
NYIT's 4-year Bachelor of Fine Arts in Interior Design and its 4+1 BFA-MBA, puts the student firmly on a professional career path. Upon graduation and two years of interior design work experience (half of which may be possible to achieve while in school), U.S. graduates of the program are eligible to sit for the National Council of Interior Design Qualification exam. Passage of this exam, in conjunction with one additional year of work experience, allows for application to New York State to be licensed as a CID, Certified Interior Designer. Other states have similar certification and licensing requirements. The interior design program based at the NYIT Old Westbury location, has been continuously accredited by the Council for Interior Design Accreditation since March 1984. The 2013 CIDA visit for the Old Westbury location resulted in a six-year professional level accreditation through 2019.
---
Back to Top
Admission Requirements
First Year
Minimum combined SAT score of 1080 (critical reading and math only) or ACT composite score of 21

Students who do not meet this requirement will be permitted to matriculate with an undeclared degree status in the School of Architecture and Design. The designation is ARCH Undeclared. During this time, students undertake selected courses that foster the exploration of architecture and design, while providing students the opportunity to demonstrate academic success in a college setting. Completion of the first semester with a minimum cumulative grade average of 2.5 allows the ARCH Undeclared major access to the Interior Design, B.F.A. program.
Transfer
A portfolio review by school design faculty is required for all transfer students seeking transfer credit for design coursework.
Application Materials
Completed application
$50 nonrefundable application fee
Copies of transcripts of all high school work, including college-level courses. Your midyear and final grades will be required. All final, official transcripts must be received prior to the start of your first semester.
Official SAT (critical reading and math only) or ACT test scores. You have the option of submitting results from the previous or redesigned SAT. If you have fewer than 24 credits of previous college work completed, you will need to submit official SAT or ACT scores.


NYIT SAT Code: 2561, NYIT ACT Code: 2832

Two letters of recommendation

300–350 word essay on one of the following topics:

Tell us about your career goals and why attending NYIT would further these goals.
Describe the achievement of which you are most proud and why.
International Students Special Requirements
Progression in the Program
At the juncture between the second and third year studios, all students are required to submit an Evaluation/Portfolio for review and have a 2.75 cumulative index, or a 3.0 average in interior design coursework. Students must submit the Evaluation/Portfolios for review while enrolled in DSGN 204 (Interior Environments III), and approval is needed for admittance to DSGN 303 (Interior Environments IV). To realize the department's commitment to a cross-disciplinary approach that fosters professionalism and other human values critical to a successful career in interior design, each student seeking admission to DSGN 303 will also be evaluated by faculty on presentation skills, interpersonal skills, and attitude, and the department reserves the right to deny or delay a student's admission to DSGN 303 on that basis.