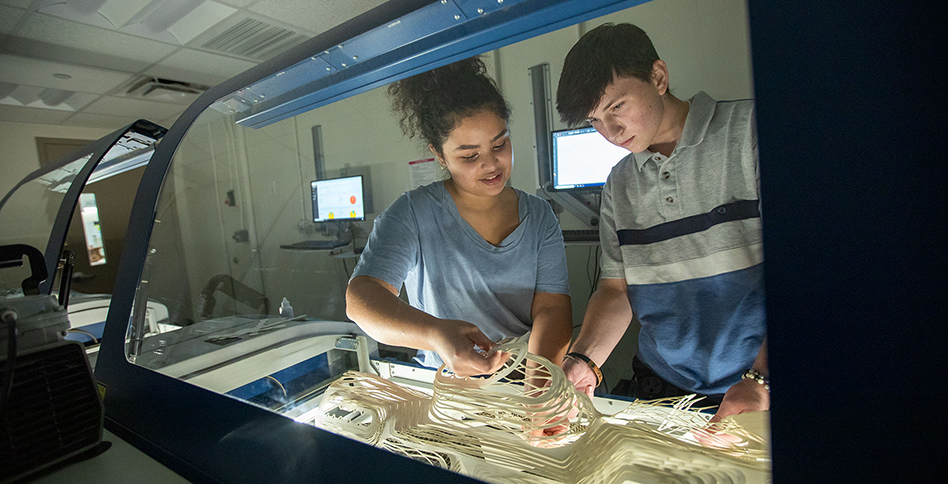 Bachelor of Architecture, B.Arch.
Students interested in the architecture program at the School of Architecture and Design (SoAD) at New York Institute of Technology can apply directly to the 5-year Bachelor of Architecture (B.Arch.) program through the submission of a creative portfolio. A two-year common core curriculum also shares the first-year AAID sequence with interior design students. This curriculum includes design studios and architectural history courses, as well as liberal arts courses such as English composition, math, physics, behavioral science, economics, fine arts, and social science.
Completion of the B.Arch. degree will allow you to proceed with the sequence of internship and professional steps that lead to licensure and certification from the National Council of Architectural Registration Boards. The B.Arch. also prepares you for New York state licensure and reciprocal licensure in other states.
Design fundamentals studios, during the first year, introduce the student to the basic principles of 2-D and 3-D design through a series of composition, planning, and introductory design problems. In the second year, progressively more demanding challenges, in addition to significant building design and analysis exercises, are undertaken with a better understanding of planning and site. Students accepted into the five-year B.Arch. program are required to complete an additional six semesters of design studios. In the third year, students are required to solve architectural problems involving small but increasingly more complex building programs. Comprehensive building design programs requiring inventive structural and technical systems, as well as urban and community design, are emphasized in the fourth year. In the fifth and final year of the program, students undertake a terminal thesis project, which including research and design components, serves to demonstrate a cumulative grasp of all the factors that influence the design of a complex work of architecture.
The School of Architecture and Design is widely respected by the professional community for its course offerings in the areas of design, building technology, and digital fabrication. Technical competence is cultivated by exposure to an array of course offerings that cover all aspects of building materials, structural systems, and mechanical and electrical systems. Construction management is introduced in the comprehensive upper-level courses that focus on professional practice and construction supervision, as well as integrated computer technologies in the construction industry.
Additional Information
All work completed in fulfillment of course requirements or in conjunction with a student's coursework shall be the property of the School of Architecture and Design. The school may waive this right at its discretion. Students reserve the right to gain access to materials for the purpose of making copies and reproductions.
The School of Architecture and Design exercises a policy of student redistribution in design studio sections that meet at the same scheduled time period in order to promote diversity in the learning experience. Redistribution is based on the student's prior experience with design faculty members and their previous academic performance.
International F-1 students who successfully complete this degree are eligible for an additional 24-month STEM OPT extension to work in the U.S. in an area directly related to their area of study immediately upon completing the customary 12-month post-completion Optional Practical Training (OPT).
Summer Study Abroad
The School of Architecture and Design has a variety of summer study abroad programs, and also offers studio trips, workshops, collaborative programs, and exchanges with other institutions. These programs are offered under the direction of one or more full-time faculty members. The school offers one to three diverse programs each summer depending upon student interest and faculty availability. Thus far, the university has offered programs in China, France, Italy, Germany, Spain, Portugal, Greece, Turkey, Egypt, the Netherlands, Israel, Finland, Japan and India.
These programs put students and faculty in direct contact with prestigious international academic institutions, students, architects, and various cultural contexts. This provides students with first-hand knowledge of the diversity and impact of global architecture on communities and cities. Summer study abroad course credits can be applied to a student's specific curriculum and field of study. The summer programs are open to students enrolled in any degree program offered by the School of Architecture and Design.
NAAB Accreditation Statement
NYIT School of Architecture and Design's Bachelor of Architecture (five-year) program is accredited by the NAAB, the National Architectural Accreditation Board. The following statement is included in the catalog, pursuant to the requirement of the NAAB:
In the United States, most state registration boards require a degree from an accredited professional degree program as a prerequisite for licensure. The National Architectural Accrediting Board (NAAB), which is the sole agency authorized to accredit U.S. professional degree programs in architecture offered by institutions with U.S. regional accreditation, recognizes three types of degrees: the Bachelor of Architecture, the Master of Architecture, and the Doctor of Architecture. A program may be granted an eight-year, three-year, or two-year term of accreditation, depending on the extent of its conformance with established educational standards.
Doctor of Architecture and Master of Architecture degree programs may require a pre-professional undergraduate degree in architecture for admission; however, the pre-professional degree is not by itself recognized as an accredited degree.
New York Institute of Technology School of Architecture and Design offers the following NAAB-accredited degree programs:
BACHELOR OF ARCHITECTURE (160 undergraduate credits)
---
Back to Top
This program has specific admission requirements in addition to our general requirements.
Required materials for admission include a completed application plus supplemental materials in the form of a creative portfolio. Applicants who are not accepted for direct freshman B.Arch. admission will be considered for admission to the pre-professional B.S.A.T. program.
Application Materials
Completed application
$50 nonrefundable application fee
Copies of transcripts of all high school work, including college-level courses. Your midyear and final grades will be required. All final, official transcripts must be received prior to the start of your first semester.
Official SAT (critical reading and math only) or ACT test scores. You have the option of submitting results from the previous or redesigned SAT. If you have fewer than 24 credits of previous college work completed, you will need to submit official SAT or ACT scores.


SAT Code: 2561, ACT Code: 2832

Two letters of recommendation

300–350 word essay on one of the following topics:

Tell us about your career goals and why attending New York Tech would further these goals
Describe the achievement of which you are most proud and why
International Students Special Requirements
Portfolio Submission
The creative portfolio should consist of 10–15 pages of your own visual work (format PDF/MP4, size limit 35 MB). It can include assignment-based projects, self-directed work, or pieces of a collaborative nature, and could contain multimedia work, photography, drawings, sketches, collages, models, paintings, sculpture, poetry, furniture design, etc.
At any point of your studies in the B.Arch. program you can decide to change in favor of the B.S.A.T. program upon revision of course equivalences.
Graduates of the 5-year B.Arch. program are eligible to apply to Track II (2-year, 60 credits) of the professional Master of Architecture (M.Arch.) program.
Deadlines
First-Year Priority Deadline: February 15.
Regular Admission: Applications will be reviewed on a rolling admission basis, as long as space is available.
International Student Deadlines: December 1 for the spring semester and July 1 for the fall semester.