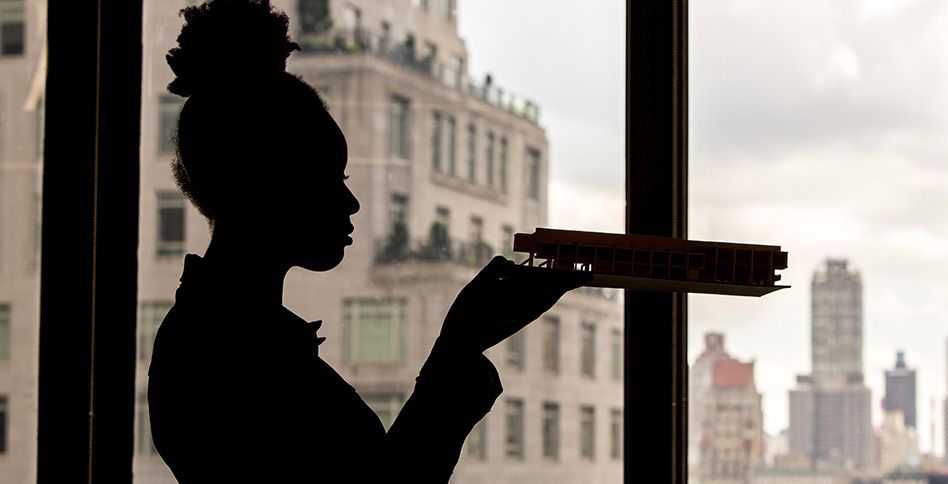 School of Architecture and Design
Degrees Offered
The School of Architecture and Design offers degrees in architecture, interior design and urban and regional design. Five architecture degrees are offered: an Associate in Applied Science in Architectural Technology (A.A.S.), a Bachelor of Science in Architectural Technology (B.S.A.T.), a Bachelor of Architecture (B.Arch.), a Master of Architecture (M.Arch.), and a Master of Science in Architecture, Urban and Regional Design (M.S.).
Interior Design offers a Bachelor of Fine Arts in Interior Design (B.F.A.). Additionally it offers a track within the B.F.A. leading to acceptance into NYIT's School of Management Master of Business Administration in Management with a Specialization of Design Management (M.B.A.).
The B.Arch. is recognized as a first professional degree and is fully accredited by the National Architectural Accrediting Board (NAAB). The Bachelor of Fine Arts in Interior Design (B.F.A.) is offered in both New York City (Manhattan) and Long Island (Old Westbury) in the United States. The degree is a professional degree accredited by the Council for Interior Design Accreditation. The M.Arch. is recognized as a first professional degree and and has candidacy accreditation status with the NAAB.
About the School of Architecture and Design
Since ancient times, architecture has been considered the mother of all arts. In a manner much the same as in the other visual arts, the act of making architecture requires the use of the eye, the mind, and the hand. Above all, architecture demands passion, precision, and intelligence without which no act of creation can occur. Unlike the other arts, architecture has a functional task: the creation of built environments for human activity. In doing this, architecture becomes the inevitable expression of human values. Through the design process and the production of a built environment, architecture not only addresses issues of form and space making, it also addresses the interrelated physical, social, political, economic, and cultural values prevailing in a particular place and time.
Design is an intellectual exercise and an art form, and serves as the primary focus of the School of Architecture and Design's academic programs. The school maintains that this emphasis on design within the curriculum best prepares students for effective participation in the profession and for rendering service to the public. The intentions of the programs for every student are summarized as follows:
To stimulate artistic sensitivity, creative power, and personal self-confidence
To strengthen intellectual ability as it is applied to the making of solutions to architectural problems
To acquire the technical skills needed for the practice of architecture and the related design fields
To support applications-oriented research that benefits the larger world
Architecture and design today operate in a fast-changing, complex milieu. The emergence of computer technology and the rapid changes in building construction have imposed tremendous pressures on design pedagogy. Architecture and design must meet the demands made for energy conservation. Vast changes in contemporary society, such as the disintegration of social, geographic, and communication barriers, impose additional challenges. Prescriptive philosophies, once embraced by architecture schools, are now questioned for their relevance and effectiveness. In response, the School of Architecture and Design believes that each student must develop his/her own approach to design, based upon the sound shared intellectual and technical foundations offered at NYIT.
Diverse course offerings allow students to explore the interrelationships and specializations occurring in the architecture and interior design fields. Students may define their own career paths and goals based on the knowledge acquired in the classroom. After the first foundation year, students may select majors in either architecture or interior design.
Computer technology is having a profound effect on the planning and design of the built environment as well as on actual construction practices. Consistent with changes occurring in other professions, computers are transforming the way that architecture as an art and as a profession is practiced. The curriculum of the School of Architecture and Design, in step with the objectives of NYIT, is committed to keeping up with change and anticipating the future. Computer skills are introduced early in the program. As they progress in their studies, students are provided the opportunity to master computer-aided design. Several computer labs feature up-to-date computer software and are available to all students enrolled in the programs. Fabrication labs have 3-D modeling, laser cutters, and analog machinery available.
Interior design as an art and a profession has greatly changed. In the past, it was understood primarily as the act of decorating an existing space. It has evolved into a profession that is far broader and encompassing. Today's interior designers are trained to enhance the quality of working and living environments. This includes aesthetics in addition to functionality, efficiency, and safety. Many interior designers today are part of larger design teams including architects, engineers, consultants, contractors, and others working in tandem to create exciting environments. Their work professionally allies and interrelates with architecture and architectural technology.
The integration of coursework between the interior design program and the architecture program at the School of Architecture and Design facilitates a collaboration between interior design and architecture students that will serve graduates well when they enter the workplace. All undergraduate students in the School of Architecture and Design are required to complete two semesters of design fundamentals AAID 101 and AAID 102 or DSGN 102, two semesters of visualization AAID 140 and 240, and one semester of history and theory AAID 160 prior to advancing in their respective discipline-related design studio sequences.