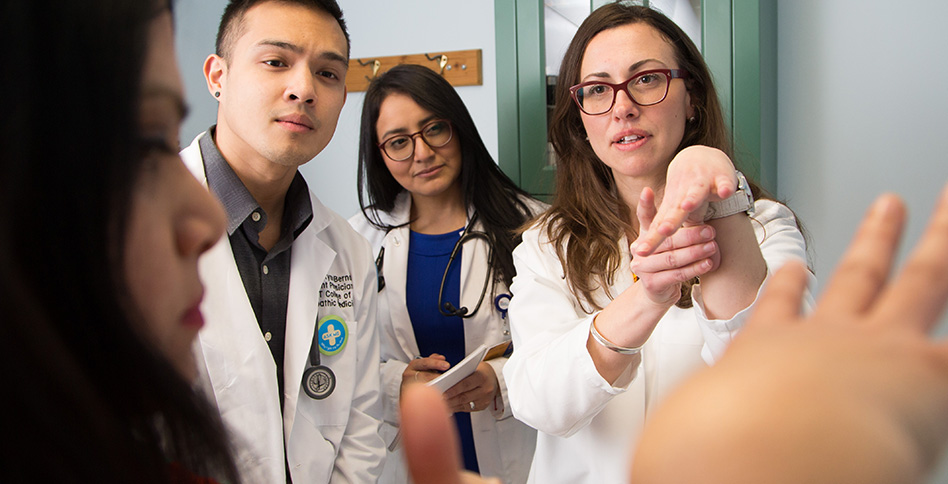 Academic Program: Doctor of Osteopathic Medicine
The NYIT College of Osteopathic Medicine is guided by its mission to train outstanding physicians spanning the continuum of medical education that encompasses pre-clinical education, clinical education, and graduate medical education.
Please note, the method of delivery of a course may be modified at any time and for any reason.
Pre-Clinical Curriculum: Two Tracks
We offer students a choice of two pre-clerkship curricular tracks:
A systems-based curriculum, Lecture-Discussion Based (LDB) track, that utilizes large group presentations along with small group discussion-based sessions to integrate the biomedical and clinical sciences along continuous didactic threads to address osteopathic core competencies.
A problem-based curriculum, the Doctor-Patient Continuum (DPC) track, whose cornerstone is small-group, case-based learning as a means to address the osteopathic core competencies. (We no longer accept applications into this program beginning with the entering class of 2020).
In both pre-clerkship curricular tracks of the first two years of the educational continuum, a student-centered, patient-focused approach integrates basic and clinical science content. Both LDB and DPC tracks feature small-group instruction in basic and clinical science labs, including practical components of the doctor-patient relationship and osteopathic manipulative medicine. State-of-the art patient simulation encounters allow students to develop and to assess their medical decision making skills in realistic clinical scenarios
The major difference between the two pre-clerkship curricular tracks lies in how learning objectives are defined. In the LDB track, faculty identify the learning activities, which include large-group classroom sessions, as well as small-group clinical skills labs and individual simulated patient experiences. LDB courses are structured according to an approved syllabus that includes a list of faculty-defined objectives. In contrast, students in the DPC track identify their own learning objectives as they explore patient case studies in small learning group sessions. Like their LDB colleagues, students enrolled in the DPC curriculum also participate in small-group clinical skills labs and individual simulated patient experiences.
Third- and fourth-year clinical clerkships provide a variety of clinical exposures and experiences, from one-on-one preceptorships in physicians' private practices to membership on interprofessional teams in tertiary care hospitals. Additionally, the students are exposed to a wide range of patient populations in both rural and urban locations during the clerkship years. As their skills develop, our students assume increasing responsibility and participate in advanced medical procedures.
The college curriculum committee examines course content and pedagogy for all four training years on an ongoing basis and acts as an advisory board to the dean to suggest enhancements each year. At the conclusion of each course and clinical clerkship, students provide feedback on course/clerkship content and delivery, utilizing a campus wide course analysis system. Additionally, representatives of the student body meet regularly with course and college administrators to address concerns and consider suggestions for improvement of the learning program.
Throughout the educational continuum, the teaching program promotes the integration of structural evaluations, osteopathic manipulative treatment, and a deep awareness of psychosocial factors, legal issues, and ethical concerns relevant to the delivery of health care in the 21st century.
Pre-Clinical Curricular Overview
Lecture-Discussion Based (LDB) Track Curriculum
Courses in the first half of this four-year curricular continuum are organized in a systems-based format. The Lecture-Discussion Based coursework begin with the Foundations of Osteopathic Medicine course, which presents, reviews, and reinforces common basic biomedical and clinical science concepts that underlie the practice of Osteopathic Medicine. This course lays the groundwork for the systems-based curricular approach and begins to introduce students to the body systems through the study of the Integumentary System. Each subsequent course addresses several of the following systems: musculoskeletal, neurological, immunological, respiratory, cardiovascular, endocrine, gastrointestinal, genitourinary, and reproductive systems. This traditional organ system approach allows for integration between the biopsychosocial and clinical sciences in a student-centered/patient-focused curricular approach.
LDB pre-clinical courses are organized into the following two major integrated threads:
Osteopathic Medical Knowledge (OMK)
This thread consists of the cognitive and conceptual knowledge whose mastery is essential for the practice of Osteopathic Medicine with understanding and sound clinical reasoning. This content knowledge is integrated throughout the learning program and incorporates concepts and information from multiple scientific and clinical disciplines, Including Osteopathic Principles and Practice (OPP), biochemistry, genetics, pharmacology, physiology, microbiology, immunology, histology, embryology, pathology, anatomy, medical ethics, and health promotion/disease prevention.
Osteopathic Clinical Skills (OCS)
This thread emphasizes the acquisition and development of proficiency in defined manual and analytical skills essential for the practice of Osteopathic Medicine. These skills comprise data-gathering activities such as patient interviewing, physical examination, osteopathic structural evaluation, and diagnostic testing, as well as record-keeping, and management planning.
Doctor-Patient Continuum (DPC) Track Curriculum
Please note that we no longer accept applications into this program beginning with the entering class of 2020
Following acceptance to the College of Osteopathic Medicine through the regular admissions process, students were afforded the opportunity to file a secondary application for admission to the DPC program. Enrollment in the DPC curriculum has been limited to approximately 36 students from each year's entering class and has been offered at the Long Island (Old Westbury, N.Y.) site only.
The Doctor Patient Continuum (DPC) is a hybrid problem-based curriculum founded on "continuum" education principles. Throughout the curriculum, learning activities are clustered within the context of clinical-case scenarios, serving as an interface between the patient and the physician, where the acquired knowledge, attitudes, and skills of the practicing clinician will later be applied. Curricular content is rooted in the scientific underpinnings of modern evidence-based medicine. The developing student-doctors are expected to explore aspects of health and disease pertinent to the clinical case at seven levels, including molecular; cellular; tissue; organ; integrated organ system; whole person; and family, society, and environment. At the same time, clinical relevance is stressed by highlighting the nexus between the "science" and its "application". The curriculum is designed and implemented so as to achieve consistency among curricular goals, content, learning activities, and student evaluation.
Beginning on the first day of medical school, and continuing throughout the four years of undergraduate medical education, learning activities are organized according to a continuous, iterative building process.
The goal is not only for each student to achieve their full potential as a well-trained, highly competent graduating osteopathic physician, but also to provide a framework for continuing education through postgraduate training and into clinical practice. The DPC curriculum is highly student centered, featuring "student learners," and promotes the development of critical thinking and clinical problem-solving skills.
Courses for the DPC curriculum include:
A series of courses in Biopsychosocial Sciences, including small-group case-based learning, anatomy/microanatomy, and large-group faculty-directed problem sets, and resource hours;
A series of courses in clinical sciences, including didactic and laboratory experiences in osteopathic manipulative medicine and in physical diagnosis. The fundamentals of the doctor-patient relationship are addressed through involvement with community-based physician mentors (Clinical Practicum), as well as experiences with standardized and simulated patients in the Institute for Clinical Competence.