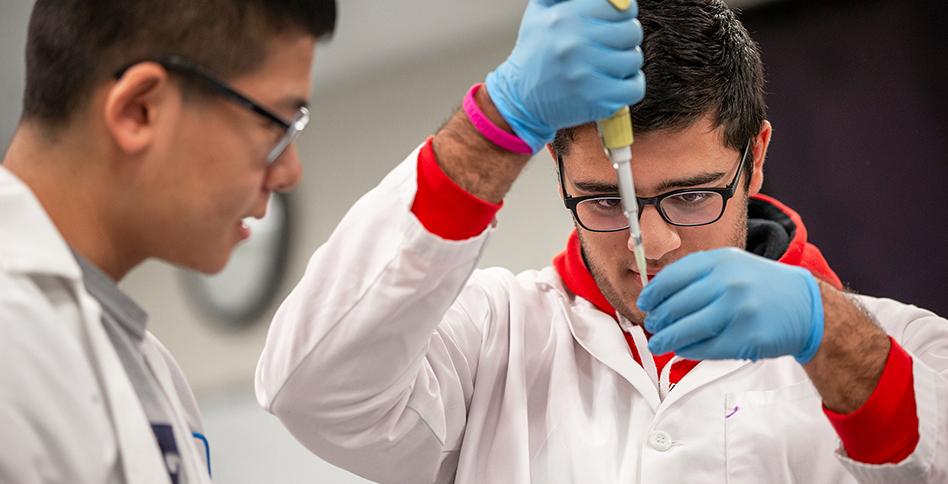 Combined Baccalaureate/Doctor of Osteopathic Medicine Degree Program (B.S./D.O.)
New York Institute of Technology offers a combined baccalaureate/doctor of osteopathic medicine degree program to talented, highly motivated students. A select number of those who qualify will be admitted to the College of Arts and Sciences at New York Institute of Technology. Upon successful completion of three undergraduate years plus the first year at New York Institute of Technology College of Osteopathic Medicine (NYITCOM), the student will receive a Bachelor of Science in Life Sciences (pre-professional option).
The combined program enables a student to achieve both a B.S. degree and a D.O. degree in seven years rather than the traditional eight. Specifically, in order for a student to be considered for acceptance to the College of Osteopathic Medicine and invited for a personal interview, the student must complete the AACOMAS application and meet the following criteria:
GPA – maintain an overall semester and cumulative GPA of 3.5 each semester.
MCAT – obtain an MCAT score at least equal to the mean MCAT score of the NYITCOM first year class of the year the student began undergraduate study.
Deadline for complete application package – January 1 of the third year of undergraduate study (must include MCAT score).
Students must declare their intention to apply for admission at NYITCOM in either Jonesboro, Arkansas or Long Island, New York by the end of their second year. Requests for a change of campus after the second year will be addressed by the Admissions Committee on a case-by-case basis.
Other seven-year bachelor's degree agreements have been established with the State University of New York (at Geneseo, New Paltz, Plattsburgh, and Old Westbury); the City University of New York (at Hunter College, Lehman College, and Queens College); Adelphi University, Albany College of Pharmacy and Health Sciences; St. John's University; St. Bonaventure University; Arkansas State University; Ouachita Baptist University; William Baptist College; University of Central Arkansas; and the University of Memphis. Students are selected based on the application criteria stated above. For further information, contact the Admissions Office of the specific college.
For information on the New York Institute of Technology program, contact:
Undergraduate Admissions
New York Institute of Technology
Northern Boulevard
P.O. Box 8000
Old Westbury, NY 11568-8000
516.686.7520
admissions@nyit.edu