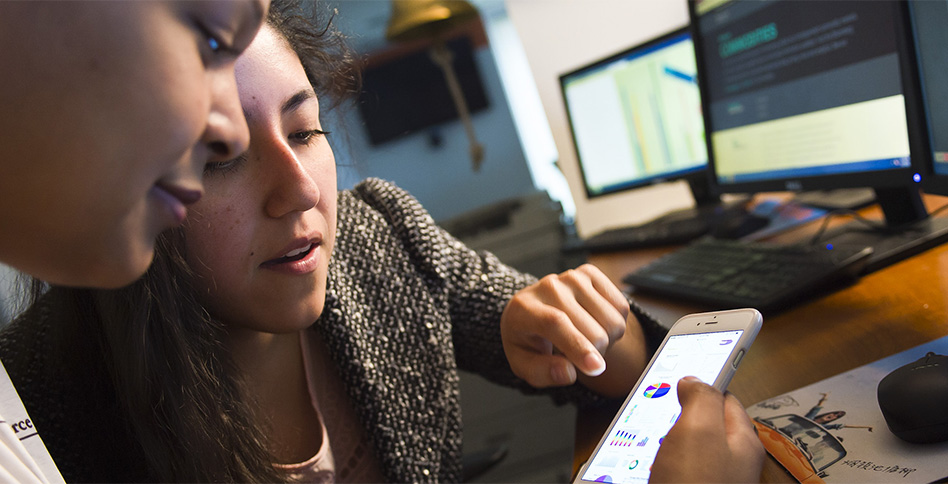 Undergraduate Minors
The School of Management now offers four minors to students across all NYIT disciplines who want to broaden their academic horizons.
Business for Non-business Majors
The need for non-business students to have business education has been reported by a variety of sources. For example, in a 2014 article in U.S. News and World Report, it was suggested that there was a greater return on a liberal arts education when students take minors such as business. There are many CEOs who did not major in business, but these executives stress the need for critical thinking, problem-solving, work ethic, teamwork, and strong oral and written communication as important skills sets. The courses in this business minor for non-business students offer training that enhances just these skill sets. Students must carefully consider their choice of a college minor as there is nothing minor about making the right choice. A minor should connect to and reinforce students' major while expanding the opportunity for contextual learning in support of broader applications.
Students who enroll in this minor will acquire knowledge of core areas of business that will enhance the ability of individual students to pursue career success after graduation. In particular, this minor is designed for students to gain additional coursework that will be useful in being competitive in entry-level business positions and allow for career growth.
Service Excellence
Enroll in a minor that strengthens your professionalism and ability to effectively engage with internal and external partners, no matter what the discipline or industry. A key component of co-curricular learning is to explore concepts that bridge disciplines, and integrate academic professions and cultures. Having an understanding and command of best-practice customer service principles is something that many industries, not just hospitality, crave and are now seeking out to help distinguish themselves from their competitors. From health care, to finance, to retail, and more, organizations are now modeling their internal training and development strategies from a myriad of other hospitality organizations.
Furthermore, various industries are focusing marketing campaigns on their customer service, as much as they are on the quality of the product or service they provide. A primary component of this minor is to guide students in the development of the customer relations dialogue, and best-practices in ensuring guest, customer, patient, and/or client satisfaction. To that end, a major component of development and awareness of providing outstanding customer service is in developing training materials and examples to handle various service encounters. This written dialogue will be practiced, demonstrated, and rehearsed in role-playing scenarios to support proficiency in oral communication. Analytic management tools will be created for training service staff and communicating with guests in a multi-cultural environment to ensure that a positive workplace leads to competitive advantage through exceptional service and guest satisfaction.
Sustainability in Lodging, Food, and Tourism
This minor in Sustainability in Lodging, Food & Tourism will allow students a greater understanding of the many areas that fall under the concerns of sustainability such as: products, services, community outreach, energy conservation, agriculture, marketing, recycling, economic development, social development, and environmental protection.
A key component of this minor is having an understanding and command of best-practice sustainability principles and understanding how they could be applied to all aspects of our working environment and daily lives. This is something that is not only being encouraged, but is quickly becoming legislation in an array of business communities across the globe.
The core skills with which a graduates leaves college or university are highly sought after, especially in a modern world looking to drastically reduce carbon emissions and discover and develop the technologies of the future. Sustainability draws on politics, economics, philosophy, and other social sciences as well as the hard sciences. Sustainability skills and environmental awareness is a priority in many corporate jobs, at the graduate level, and as businesses seek to adhere to new legislation.
Wine, Beer, and Spirits
According to the United States Department of Labor, the Hospitality industry comprises 16% of the total workforce in the nation and is the largest non-government U.S. industry.
The Minor in Wine, Beer, and Spirits is open to all majors across NYIT who want to strengthen their cultural awareness, professionalism, and ability to effectively engage in a business environment while demonstrating proper etiquette.
The understanding, command, and appreciation of libations brings a cultural sensitivity to the student and integrates a broad scope of study into a curriculum with intensive study in history, legal regulation, foreign language, and geography, all necessary components to the understanding and appreciation of wine, beer, and spirits originating from various cultures from around the world. This broad understanding of libations is critical to the ability to successfully and profitably serve, sell, and market the various products in this retail sector. Having an understanding and appreciation of libations provides a life skill that enables those that study beverages to engage socially and have greater confidence in various personal and professional situations.
Admission Requirements
Declaring a minor is easy: Simply fill out the Application to Declare a Minor and contact som@nyit.edu to arrange to have the form signed.