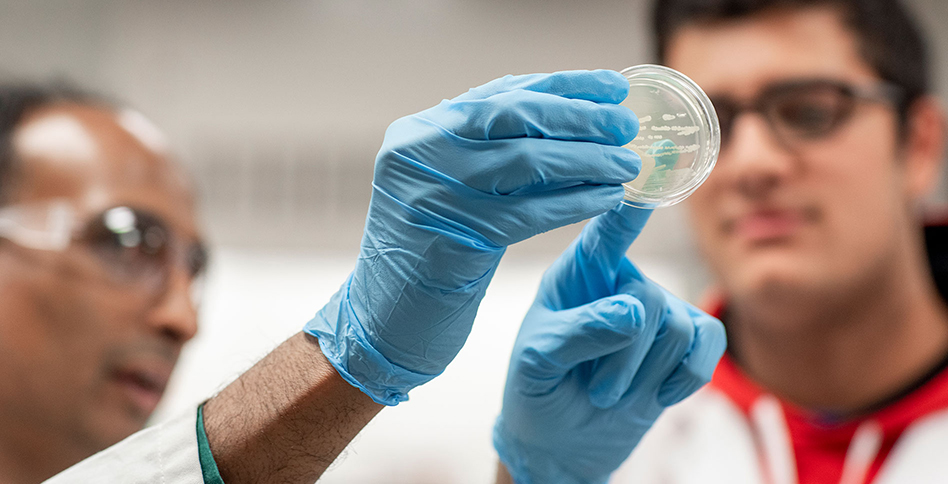 Biomedical Sciences, M.S.
New York Institute of Technology College of Osteopathic Medicine at Arkansas State University is pleased to offer a Master of Science in Biomedical Sciences (BMS). The program is designed to improve the candidacy of individuals interested in attending medical school. The program can be taken by any individual and used to enhance their application to any medical school. Students are required to earn 34 credits to complete the BMS.
This one-year, full-time, non-thesis master's program is designed for students who have an undergraduate degree in science or have completed the course prerequisites for medical school, and want to bolster their overall credentials for admission. Through the program, students will gain skills proven necessary for success, gain valuable volunteer experience (optional), and prepare for entry into the first year of medical school through an intense, rewarding year of study. This program will not only prepare students for a career in medicine but also in the sciences, especially with an emphasis on critical thinking.
The program focuses on both cognitive and behavioral skills as well as the knowledge base needed for medical school success, including medical science coursework, evidence-based study, time-management skills, servant leadership or health policy experience (optional), research, and securing important recommendations from academic and medical professionals.
This program is designed to begin in late summer and end in May of the following year. It is expected that students will be studying in person on the Jonesboro, Arkansas, campus.
The BMS has five components:
Scientific Foundation of Medicine – Students gain in-depth understanding of the biologic basis of health and disease by taking the same instructional material and assessments as those typically taken by first-year medical students.
Clinical Inquiry Courses – These two team-based learning courses are specifically tailored to BMS students and are unique to this program. While the biomedical science courses teach depth of knowledge, these courses impart the breadth and application of that knowledge as it would be experienced in a clinical setting. Courses combine case-based learning with concept mapping to integrate the knowledge and apply it in a clinical setting.
Critical Thinking – This course introduces students to cognitive learning strategies and how to effectively apply them to medical science competencies. Students will further their development in critical analysis of information and data, and how to appropriately act on this analysis as it relates to biomedical and clinical science.
Research – This two-semester laboratory experience is designed to help students gain research experience that may aid in a career in either science or medicine, and also provide a foundation in the application of the scientific method.
Seminar – Students discuss current relevant research in science, medicine, or medical education. Seminars introduce students to scientific literature, data interpretation, and reading comprehension.
---
Admissions Requirements
Application Materials
Applications are reviewed by the NYIT Office of Graduate Student Admissions. The following are required for application to the program:
Completed application and fee for the M.S. in Biomedical Sciences (BMS)
Completion of a bachelor's degree and pre-med requirements
Three letters of recommendation. Letters should be written by individuals who are familiar with the applicant's professional and scholarly abilities. The following list has some examples of appropriate letter of recommendation authors:

two letters from undergraduate faculty in your major highlighting academic abilities
one letter from a work or volunteer organization highlighting leadership skills or a reference highlighting your interest in medicine

Transcripts from all previously attended colleges (unofficial transcripts are acceptable upon application, but official transcripts are required before program completion)
Undergraduate cumulative GPA of 3.0 or higher recommended and MCAT scores (unofficial upon application; official before program completion). Other graduate admissions tests (GRE, GMAT) may be submitted in lieu of the MCAT score.
Personal statement on how this program can you help reach your goals, and what can you add to the program
Program Progression
Degree Requirements
In order to receive the Master of Science in Biomedical Sciences degree, students must:
Earn a grade point average of 3.0 and receive a passing grade (C or better) in every course of the curriculum
Successfully complete research requirements
Display professional and ethical behavior at all times
Be enrolled full-time
Complete all requirements for the degree within one (1) year of beginning the program. Exceptions to this rule may only be made with the consent of the director of the program.
There is no final comprehensive exam at the end of this program; rather, each course is completed individually and utilizes multiple assessment methods to determine students' mastery of the material.
Requirements for Acceptance into NYIT College of Osteopathic Medicine
Students that successfully complete all the requirements of the Biomedical Sciences, M.S. program may apply to NYIT College of Osteopathic Medicine at Arkansas State University.