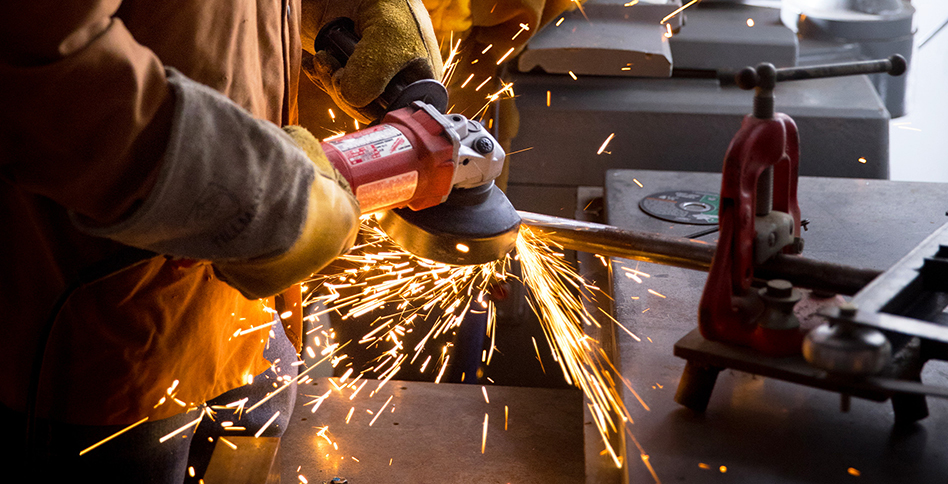 Mechanical Engineering, M.S.
The Master of Science in Mechanical Engineering combines fundamental concepts with modern applications. The program's innovative approach combines cutting-edge research and up-to-date coursework in:
Solid mechanics
Heat transfer and thermofluid systems
Energy systems
Biomechanics and biomedical devices
Micro/nano sensors
Mechatronics
Controls and dynamical systems
Sustainable engineering
You will complete your program by selecting a six-credit thesis option or a project-based non-thesis option. Both options prepare you for research and development opportunities and provide you with the opportunity to present work at major conferences and publish your findings alongside our faculty experts in peer-reviewed journals.
Our Entrepreneurship and Technology Innovation Center and Rapid Prototyping Maker Space at the Long Island campus offer state-of-the-art space for research in bioengineering, assistive technologies, energy, and more.
Fellowships and Assistantships
Research fellowships and teaching assistantships are available to qualified candidates. These opportunities are usually for a 10-month period and may include partial remission of tuition and fees.
International F-1 students who successfully complete this degree are eligible for an additional 24-month STEM OPT extension to work in the U.S. in an area directly related to their area of study immediately upon completing the customary 12-month post-completion Optional Practical Training (OPT).
---
Back to Top
Admission Requirements
B.S. degree in Mechanical Engineering from an ABET-accredited program or B.S. degree or its equivalent in a closely related field with appropriate prerequisite courses approved by the chairperson of the Mechanical Engineering department

If students have a degree in engineering, an accredited program is one that is accredited by the Engineering Accreditation Commission of the Accreditation Board for Engineering and Technology (ABET).
If students have completed degrees in computer science or a closely related field, an accredited program is one taken at a college that is regionally accredited, such as the Middle States Association of Colleges and Schools.
If students have an international baccalaureate degree or diploma, which is equivalent to three years of undergraduate study in the U.S. in computer science, engineering, or a related area, they may be eligible to be admitted into a bridge option in the intended graduate program.

Minimum undergraduate GPA of 2.85 for full matriculation

Applicants who do not qualify for full matriculation and have an undergraduate GPA between 2.5 and 2.84 may, at the discretion of the director, be given the opportunity to demonstrate qualifications for full matriculation by achieving a GPA of 3.0 or higher in the first four graduate courses. In addition, such students may be required to take one or more parts of the GRE and meet individual departmental requirements. In general, students in this category will not be permitted to continue in the program for more than two semesters unless they have qualified for fully matriculated status, or there are special extenuating circumstances.

Submit GRE scores

Graduates of foreign universities are required to take the GRE and submit their scores.
Students with a GPA below 2.85 may, at the discretion of the dean, be asked to take the GRE or other diagnostic tests. Admission will be based upon consideration of test results, previous academic performance, and related employment, if applicable.

Students with an insufficient background for admission into the Mechanical Engineering M.S. program may be required to take the waivable and prerequisite courses listed below.

MENG 221 Strength of Materials (3 credits)
MENG 212 Engineering Mechanics II (Dynamics) (3 credits)
MENG 240 Thermodynamics (3 credits)
MENG 310 Introduction to Material Science (3 credits)
At least two courses from the group: MENG 340 Fluid Mechanics, MENG 370 Machine Design, MENG 324 Vibrations and System, MENG 349 Heat Transfer

Note: Credits earned for the courses above will not be counted toward the 30 credits required for the degree. Additionally, all 500-level bridge courses earn a pass/fail grade.
Application Materials
Completed application
$50 nonrefundable application fee
Copies of undergraduate transcripts for all schools attended. All final, official transcripts must be received prior to the start of your first semester.
Copy of college diploma or proof of degree
Official GRE scores, if required (GRE Code: 2561)
International student requirements: English proficiency (TOEFL/IELTS/PTE), I-20, and transcript evaluation
Transfer Credits
Students may transfer up to nine credits from an accredited graduate program for appropriate courses in which a minimum grade of B was earned.
Pass grades earned during the spring 2020 semester meet this GPA threshold and are transferable to New York Institute of Technology.