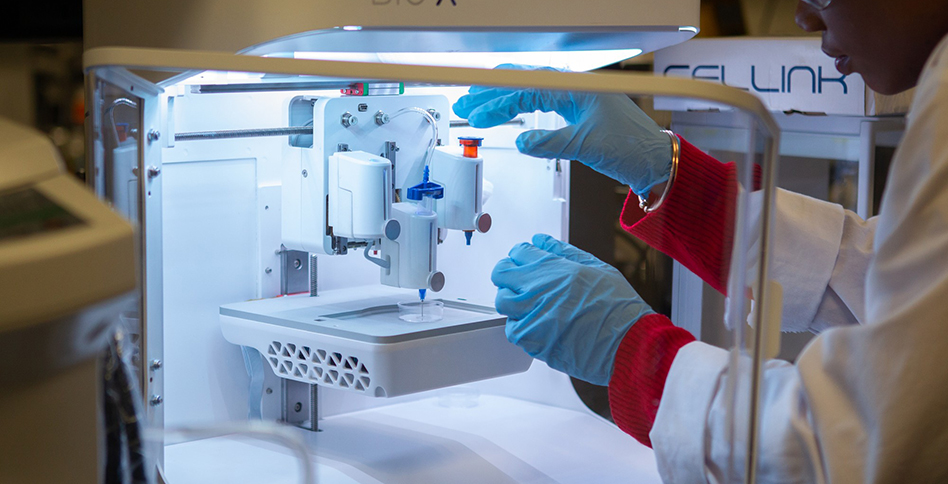 Bioengineering, M.S.
New York Institute of Technology's graduate program leading to a Master of Science in Bioengineering is designed to serve a wide range of professional and career interests. It combines coursework in engineering concepts, life sciences, and entrepreneurship along with the tools to succeed in the biotechnology and bioengineering industries. It is applied in nature and ensures that research-based engineering and medical knowledge is translated to practice.
The M.S. in Bioengineering currently focuses on Medical Devices. Future tracks are planned in Health Informatics and Biomechanics.
Program Overview
The Bioengineering program is designed specifically for college graduates holding an appropriate engineering (e.g., biomedical, mechanical, electrical, computer, chemical) or science (e.g., biology, physics, computer) degree who wish to pursue a career within specific subspecialties of Bioengineering (in particular, medical device design).
The program provides the students with a comprehensive knowledge and proficiency in:
Medical device design and practical applications
Understanding of advanced topics in nanotechnology
Molecular and cell bioengineering
Bioinformatics and biomedical imaging
Solving complex biomedical engineering and science problems
Technical knowledge and skills in micro electro-mechanical systems (MEMS)
Objectives
Program objectives are aligned with the national standards established by the Accreditation Board for Engineering and Technology (ABET) below:
Applying principles of engineering, biology, human physiology, chemistry, calculus-based physics, mathematics (through differential equations), and statistics
Solving bio/biomedical engineering problems, including those associated with the interaction between living and nonliving systems
Analyzing, modeling, designing, and realizing bio/biomedical engineering devices, systems, components, or processes
Making measurements on and interpreting data from living systems
The program prepares students to engage in a successful professional bioengineering career or pursue an advanced research degree.
Curriculum
Our curriculum consists of 30 credits, 18 of which are allocated to required courses in Bioengineering. Six credits permit students to specialize in areas appropriate to their individual needs, and the remaining six credits allow students to pursue either a project or thesis. In order to accommodate working professionals, courses are offered during day and evening hours, as well as weekends on the Long Island campus.
Thesis Option Master's Degree
Students selecting this option will be required to complete 30 credits, including six credits of M.S. thesis courses and six credits of general electives. Full-time students typically take two semesters to complete the thesis course sequence, which entails planning and conducting research, and writing a thesis. Depending on the thesis topic, students will gain specialized skills and knowledge to make them better qualified for research and development jobs at companies. The thesis may also lead to advanced degrees beyond the Master of Science. With the approval of a supervising thesis advisor, qualified students pursuing the master's thesis must:
Enroll in two semesters of BIOE 890 MS Thesis I and BIOE 891 MS Thesis II for a maximum of six credits.
Prepare reports and verbally defend a formal thesis in accordance with criteria established by the College of Engineering and Computing Sciences. A formal written thesis will be archived in the NYIT library.
Note: All master's thesis students must strictly adhere to the Master's Thesis Policies and Guidelines published by NYIT College of Engineering and Computing Sciences.
Non-Thesis Option Master's Degree
Students selecting this option will still be required to complete 30 credits. Instead of M.S. thesis courses, students will take 6 credits of Capstone project under the supervision of the department chair or a faculty advisor.
Fellowships and Assistantships
Research fellowships and teaching assistantships are available to qualified candidates. These opportunities are usually for a 10-month period and may include partial remission of tuition and fees.
International F-1 students who successfully complete this degree are eligible for an additional 24-month STEM OPT extension to work in the U.S. in an area directly related to their area of study immediately upon completing the customary 12-month post-completion Optional Practical Training (OPT).
To apply for the M.S. in Bioengineering, visit nyit.edu/apply.
---
Back to Top
Admission Requirements
B.S. degree or its equivalent from an accredited college or university in computer science, life sciences, electrical engineering, physics, or related areas

If students have a degree in engineering, an accredited program is one that is accredited by the Engineering Accreditation Commission of the Accreditation Board for Engineering and Technology (ABET).
If students have completed degrees in computer science or a closely related field, an accredited program is one taken at a college that is regionally accredited, such as the Middle States Association of Colleges and Schools.

Minimum undergraduate GPA of 2.85 for full matriculation

Applicants who do not qualify for full matriculation and have an undergraduate GPA between 2.5 and 2.84 may, at the discretion of the director, be given the opportunity to demonstrate qualifications for full matriculation by achieving a GPA of 3.0 or higher in the first four graduate courses. In addition, such students may be required to take one or more parts of the GRE and meet individual departmental requirements. In general, students in this category will not be permitted to continue in the program for more than two semesters unless they have qualified for fully matriculated status, or there are special extenuating circumstances.

Submit GRE scores

Graduates of foreign universities are required to take the GRE and submit their scores.
Students with a GPA below 2.85 may, at the discretion of the dean, be asked to take the GRE or other diagnostic tests. Admission will be based upon consideration of test results, previous academic performance, and related employment, if applicable.

Students interested in the Bioengineering M.S. program should meet the following prerequisites (or equivalents):

Math

Univariate Calculus (MATH 170, MATH 180)
Multivariate Calculus (MATH 260)
Linear Algebra (MATH 310)
Differential Equations (MATH 320)

Science

Two semesters of calculus-based physics (PHYS 170, PHYS 180)
Two semesters of college-level chemistry (CHEM 110/110L, CHEM 150/150L)

Life Sciences

One semester of Anatomy (BIOL 210)
One semester of Physiology (BIOL 310/310L)

Programming

Two semesters of introduction to computer science (CSCI 125, CSCI 185)

Engineering

One semester of electrical circuits (EENG 212)

Additional entrance requirements for students in the Medical Devices track include:

One semester of control systems (EENG 320)
One semester of signals and systems (EENG 341)
One semester of microprocessors and embedded systems (EENG 370)
Two additional semesters of electrical circuits (with labs) (EENG 270, EENG 275, EENG 281)

Applicants missing prerequisite coursework may be required to enroll in additional courses during or prior to Term I (first summer) in order to satisfy prerequisite knowledge for core curriculum. Students accepted with conditions will be required to achieve a 3.0 GPA in their first 12 credits to continue in the program and must meet with an advisor to review progress until fully admitted.

Note: Credits earned for prerequisite courses will not be counted toward the 30 credits required for the degree. Additionally, all 500-level bridge courses earn a pass/fail grade.
Application Materials
Completed application
$50 nonrefundable application fee
Copies of undergraduate transcripts for all schools attended. All final, official transcripts must be received prior to the start of your first semester.
Copy of college diploma or proof of degree
Official GRE scores, if required (GRE Code: 2561)
International student requirements: English proficiency (TOEFL/IELTS/PTE), I-20, and transcript evaluation
Transfer Credits
Students may transfer up to nine credits from an accredited graduate program for appropriate courses in which a minimum grade of B was earned.
Pass grades earned during the spring 2020 semester meet this GPA threshold and are transferable to New York Institute of Technology.