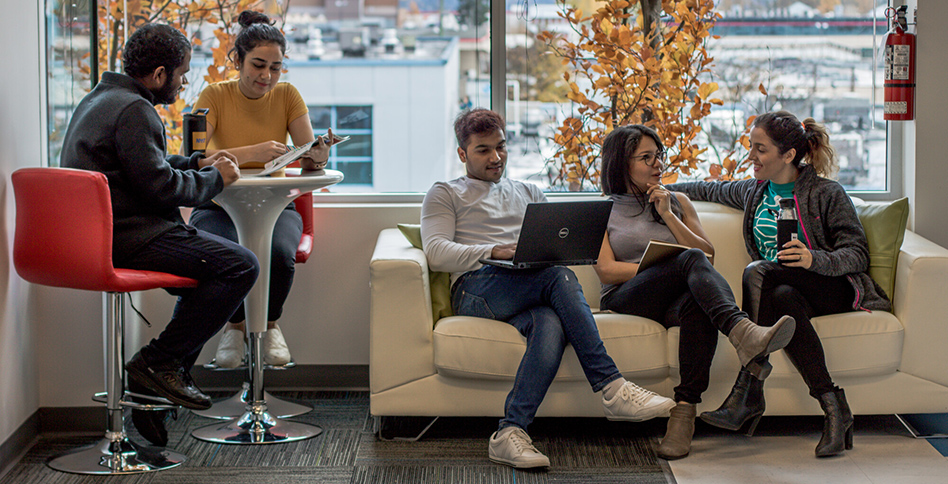 Student Life
OFFICE OF STUDENT LIFE
The Office of Student Life on the Long Island and New York City campuses provides transformative learning and engagement experiences for all students. The office oversees the Student Government Association, the Inter-fraternity Sorority Council (governing body of fraternities and sororities), student clubs and organizations, student events, and programming boards. Becoming actively involved in co-curricular activities and leadership opportunities enriches students' personal and professional development, as well as their sense of belonging within the New York Tech community. New York Tech has student clubs and organizations, wellness programming, concerts, lectures, films, and newspapers. Participation in these activities helps students develop skills and network with new people, some of whom will become lifelong friends.
Academic Clubs: New York Tech academic schools actively advise and support student-run organizations, most of which maintain national affiliation with professional societies. Involvement and membership include participation in special projects, benefits of affiliation with professional societies, and assisting the school and its students in furthering educational programs.
Honor Societies: International and national honor societies that recognize distinction in scholarship and achievement offer membership to high-achieving students. New York Tech has chapters in two nationally recognized, nondiscipline-specific honor societies:
Phi Eta Sigma National Freshman Honor Society accepts full-time matriculated students who have earned a 3.5 GPA or higher during the fall or spring semesters of their first year at college.
National Society of Leadership and Success is the nation's largest leadership honor society. Students are selected by their college for membership based on either academic standing or leadership potential. Candidacy is a nationally recognized achievement of honorable distinction.
Discipline-specific honor societies recognize high academic achievement among students majoring in particular subjects. New York Tech has active chapters in a number of discipline-specific national honor societies; membership is open to upperclassmen and graduate students, and each is administered through their respective academic schools. Student Organizations
STUDENT GOVERNMENT ASSOCIATION
The Student Government Association (SGA) is the governing body, student voice, and representative organization of New York Tech students. The SGA is made up of student leaders, including an executive board and various senators/representatives from each academic school and special interest group (e.g., residential students). The SGA works with the administration to discuss and resolve students' issues or concerns, including suggestions on campus quality of life, security, housing, academic operations, parking, busing, food service, and other student concerns. The SGA is also the coordinating and main funding body for student life programs, events, and activities such as movies, lectures, concerts, parties, educational speakers, student clubs and organizations, student academic affiliations, and other special events.
STUDENT PROGRAMMING BOARDS
The Campus Activities Board (CAB) in New York City and Campus Programming Board (CPB) in Long Island are our student-based organizations, funded through the student activity fee, to provide quality, diverse entertainment, including special events, multicultural programs, theater and art programs, concerts, competitions, speakers/lecturers, and off-campus activities that support unity, friendship, learning, and fun. The CAB and CPB are the central programming groups at each campus. Students are encouraged to get involved in student programming by helping in the planning and implementation of programs or sharing their opinions and feedback on both past and future events. All meetings and events are open to New York Tech students.
STUDENT CLUBS AND ORGANIZATIONS
On the Long Island and New York City campuses, the university has 100 officially recognized academic, social, cultural, and recreational clubs and organizations. For a list of recognized organizations by campus, visit The Cub Hub. Student clubs and organizations augment the academic experience, and involvement in any campus activity is a plus for success. Students who are unable to find an existing club of interest should consider starting one of their own. To do so, they need only identify a small group of students who share a common interest. For additional information on joining or starting a club or organization, students should contact the Office of Student Life at deanofstudents@nyit.edu.
FRATERNITIES AND SORORITIES
Greek-letter organizations have maintained a proud tradition on college campuses for well over 100 years. Founded upon principles of brotherhood/sisterhood, high academic achievement, and service to the community, these organizations add to the overall quality of life on campus. In Long Island and New York City, New York Tech has long recognized these attributes and has welcomed the formation of these organizations throughout the university's history. Students interested in joining a Greek-letter organization should discuss the possibility with the current members of several different organizations to find the one that best fits their needs. First-semester freshmen may join a Greek-letter organization if their cumulative high school GPA is 3.0 or better.