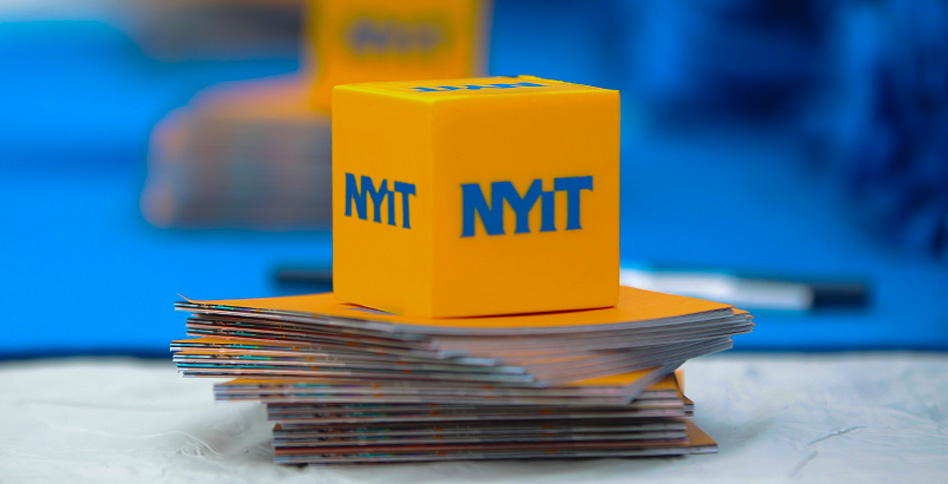 Fast Facts
About NYIT
Since 1955, New York Institute of Technology's forward-thinking academic programs have propelled its graduates into successful careers in architecture and interior design, arts and sciences, education, engineering and computing sciences, health professions, management, and osteopathic medicine.
Exceptional teaching by experienced professors, generous financial aid packages, and a supportive student-centered learning environment are some of the reasons that NYIT is consistently ranked highly among its peer universities.
NYIT's 9,000 students represent a diverse student body, representing nearly 50 states and 100 countries. With campuses in North America, China, and the Middle East as well as online, NYIT's student and faculty global exchange programs, unique experiential learning programs, and numerous extracurricular and cocurricular opportunities combine to create a unique, 21st-century learning experience.
To date, nearly 100,000 graduates have received degrees from NYIT. For more information, visit nyit.edu.
University Snapshot
Global campuses: Old Westbury, N.Y.; New York City, N.Y.; Jonesboro, A.R.; Abu Dhabi, UAE; Beijing and Nanjing, China; Vancouver, Canada
President: Henry C. "Hank" Foley, Ph.D.
Founded: 1955
Institution type: Private, independent, nonsectarian, coeducational
Colors: Blue and gold
Nickname: Bears
Athletic conference affiliations: NCAA II, Great West, ECAC
Mission Statement
Since 1955, NYIT has pursued its mission to:
Provide career-oriented professional education
Offer access to opportunity to all qualified students
Support research and scholarship that benefit the larger world
Accreditation
NYIT is accredited by the Commission on Higher Education of the Middle States Association of Colleges and Schools, and accrediting agencies for its programs and schools include:
Accreditation Council for Occupational Therapy Education (ACOTE) of the American Occupational Therapy Association (AOTA)
Accreditation Review Commission on Education for the Physician Assistant, Inc. (ARC-PA)
American Osteopathic Association (AOA) Commission on Osteopathic College Accreditation (COCA)
Association to Advance Collegiate Schools of Business (AACSB)
Association for Childhood Education International (ACEI) for our Master of Science in Childhood Education
Commission on Accreditation in Physical Therapy Education (CAPTE)
Commission on Collegiate Nursing Education (CCNE)
Computing Accreditation Commission (CAC) of the Accreditation Board for Engineering and Technology, Inc. (ABET)
Council for Accreditation of Counseling & Related Educational Programs (CACREP) for the Master of Science in School Counseling
Council for Interior Design Accreditation (CIDA)
Engineering Accreditation Commission (EAC) of the Accreditation Board for Engineering and Technology, Inc. (ABET)
Engineering Technology Accreditation Commission (ETAC) of the Accreditation Board for Engineering and Technology, Inc. (ABET)
National Architectural Board, Inc. (NAAB)
National Council for Accreditation of Teacher Education (NCATE)
More information: nyit.edu/accreditation
NYIT Schools and Colleges
Enrollment (Fall 2018)
New York Campuses:
Total undergraduate and graduate students: 9,930
Undergraduate students: 3,712
Graduate and medical students: 3,485
57 percent male, 43 percent female
13:1 student-to-faculty ratio
Represent 90 countries and 44 states
Global Campuses:
Total undergraduate and graduate students: nearly 2,000 (1,756)
53 percent male, 47 percent female
Financial Aid (2018)
Full-time undergraduate students receiving any financial aid: 95 percent
Total amount of institutional financial aid awarded: $40 million
More information: nyit.edu/finaid
Student-Run Businesses
Advertising agency
Health care centers
Newspapers
Public relations agency
Radio station
Television station
Honor societies
Honor Societies
Alpha Epsilon Rho (communication arts and broadcasting)
Chi Alpha Epsilon National Honor Society (HEOP)
Delta Mu Delta (business)
Golden Key International Honour Society
Kappa Delta Pi International Honor Society (education)
Phi Eta Epsilon (occupational therapy)
Phi Eta Sigma National Freshman Honor Society
Psi Chi (psychology)
Tau Alpha Pi (engineering and technology)
Tau Sigma Delta (architecture)
Upsilon Pi Epsilon (computer science)
NCAA Division II Athletic Teams (Long Island Campus)
Baseball
Men's and women's basketball
Men's and women's cross-country
Men's and women's lacrosse
Softball
Men's and women's soccer
More information: nyit.edu/athletics
Internships
NYIT student internships have resulted in real-world career experiences for thousands of students. NYIT students are regularly placed in leading industry corporations and organizations such as Broadridge Financial Services, HBO, Google, Juniper Networks, Leviton, LiveNation, Motorola, Viacom/MTV Networks, National Grid, the Princeton Review, Tommy Hilfiger USA, and Verizon.
Internships are available through academic departments as well as the Office of Career Services, which has an internship certificate program that supports students before, during, and after their internships by providing information on the latest hiring trends and search techniques and by providing employer evaluations and networking opportunities.
Technology
Computing labs
Dedicated videoconferencing rooms
Distributed learning facilities
Motion-capture labs
Online and hybrid courses
Open-access facilities
PCs and laptops in libraries
Teaching computer labs
Technology-enhanced classrooms
Robotics
Simulated medical patients
Smart classrooms
Wireless network capabilities in all student areas
Research
Committed to practical, applications-oriented research that benefits the greater global community, NYIT is particularly proud of faculty-led and student-supported research in areas such as:
Alternative energies
Bioengineering
DNA
Educational technology
Heart disease
Parkinson's disease
Robotics
Further, we support faculty research and scholarship as an integral part of academia that enriches our students' classroom experience, contributes to the body of knowledge in cutting-edge fields, and provides students with opportunities to test theories and gain technical skills through hands-on experimentation and research.
NYIT's Office of Sponsored Programs and Research (OSPAR) works with faculty members and administrators to identify and apply for funding to support research programs in all of NYIT's schools and colleges. OSPAR also facilitates proposals for funding to support student development and institutional programs that provide a range of services to students and strengthen NYIT's infrastructure. To date, NYIT faculty members have received funding from public, private and government agencies, including:
National Institutes of Health
National Science Foundation
New York State Department of Health
New York State Education Department
U.S. Department of Defense
U.S. Health Resources and Services Administration
Degrees Offered
Associate in Applied Science (A.A.S.)
Bachelor of Architecture (B.Arch.)
Bachelor of Arts (B.A.)
Bachelor of Fine Arts (B.F.A.)
Bachelor of Professional Studies (B.P.S.)
Bachelor of Science (B.S.)
Master of Architecture (M.Arch.)
Master of Arts (M.A.)
Master of Arts in Teaching (M.A.T.)
Master of Business Administration (M.B.A.)
Master of Fine Arts (M.F.A.)
Master of Science (M.S.)
Doctor of Physical Therapy (D.P.T.)
Doctor of Osteopathic Medicine (D.O.)
Doctor of Osteopathic Medicine (D.O.)/Ph.D.
Alumni Worldwide
Alumni: 100,000