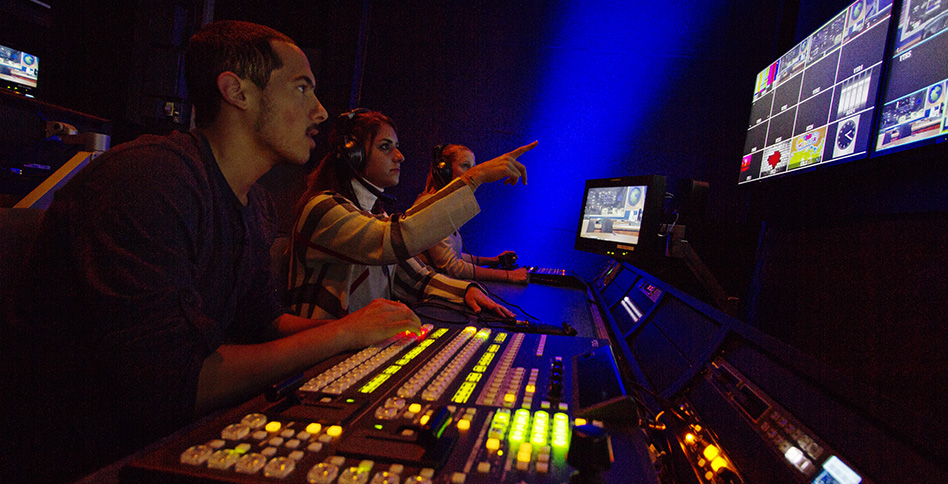 Communication Arts, M.A.
Opportunities for career enhancement in the 21st century abound for graduate students who have earned the Master of Arts in Communication Arts from NYIT. Our interdisciplinary program incorporates sound theoretical principles of research, aesthetic design, cultural studies, and hands-on production techniques. Numerous specializations along with a common theoretical basis provide the opportunity for diverse career choices grounded in a firm foundation.
Graduate courses are available in:
Digital Graphics
Animation
Web Design
Producing and Directing for Film and Television
Television Journalism and Electronic News Gathering
Public Relations and Advertising
Digital Filmmaking
Documentary Film and Television
Electronic Cinematography and Editing
Corporate Communications
Multimedia Production
Communication Law
Studio Art
Computer Graphic Art and Photography
Media Research
Print Journalism and Media Writing
Founding a Media Business
Scriptwriting
Special Effects
Intercultural Communication
Media Management
Social Media
Internships
Guided Projects (Independent Study)
Global Broadcast News
Special Events
Broadband Media Marketing
International Fundraising
Producing Webisodes
Global Film Analysis
Production House (Agency Workshop)
Our student population includes media professionals seeking further career development, along with recent recipients of undergraduate degrees in communication arts or other fields. Integration of these students from both American and diverse international backgrounds has been beneficial to those who seek employment in New York, national, and international markets. Representing more than 50 countries, communication arts alumni all over the world renew old ties and form new ones, creating an international network of opportunities.
Our full-time core faculty members, committed to excellence in teaching and advisement, have extensive professional achievements in addition to their academic backgrounds in areas such as print publications, advertising and graphic design, production of films and broadcast television, and broadband. NYIT professors taught the first college course in the United States in high-definition television and today look to cutting-edge media production skills to make creative use of new media using broadband and streaming video technologies, special effects such as gray screen technology. Active professionals, who serve as adjunct professors, are carefully chosen to complement the background and experience of our full-time faculty.
Our faculty members maintain and develop relationships with many professional groups, companies, societies, museums, guilds, unions, and agencies. Connections are ongoing with such organizations, broadcast and cable networks, directors, and writers' guilds, the American Academy of Advertising, Advertising Club of New York, SIGGRAPH, Public Relations Society of America, International Television Society, American Film Institute, Broadcast Education Association, Center for Communication, Museum of Radio and Television, Thomas Edison Museum at Menlo Park, and the Federal Communications Commission. Classroom presentations have been made by representatives of ABC, NBC, CBS, FOX, PBS, Time Warner, Viacom, AT&T, AVID, Pixar, Canon, B&H, Brainstorm, and many others as well as independent producers.
The graduate program is supported by library, Internet, audio, film, television and digital production facilities, editing suites, and computer graphics laboratories.
Graduate Assistants
A limited number of graduate assistantships are awarded each semester to outstanding students with superior credentials and strong backgrounds in particular specialty areas. Recipients of graduate assistantships receive scholarship assistance of up to six credits for their coursework. Assistantships are reviewed for renewal each semester. Applicants must:
Submit an assistantship application, as well as a formal résumé and letters of reference or present a portfolio (if appropriate), and be interviewed during the semester prior to registration.
Be available for a full-time commitment to the M.A. program and assigned responsibilities.
Be fully matriculated.
Maintain a high level of academic performance.
Effectively complete assigned activities and tasks.
Meet departmental and college-wide requirements for assisting in:

undergraduate instruction
laboratory supervision
research
special projects
computer applications
Program Components
Four graduate communication arts courses are required of all students: COMM 610 (Vocabulary of the Media Critic), COMM 630 (Media and Culture), DGIM 601 (Multimedia Production Tools), and either COMM 620 (Media Research) or COMM 625 (Art in the Era of Mass Communication). In addition, Master of Arts candidates must take a minimum of 22 elective credits. These electives are selected with faculty consultation and approval. A spirit of collegiality and mentorship prevails in our graduate program. The department reserves the right to require prerequisites and additional coursework when necessary.
In no case is academic credit awarded for previous professional experience.
In addition to maintaining a 3.0 or better GPA in coursework, students are required to submit either of the following:
Portfolio project developed through coursework
Pre-approved terminal project in the form of an analytical and/or evaluative research thesis
Students who choose the portfolio project option are required to further specialize in their fields of interest by enrolling in two advanced courses in those areas and submitting a portfolio project developed in conjunction with one of these courses. Both courses must be approved by the faculty advisor and must be relevant to the master's project that the student plans to produce. Students must submit a production completed during regular coursework. This is not an independent project and must be accompanied by a Project Portfolio form. This document includes an abstract of the work and an evaluation by the course instructor, verifying that the work meets professional standards. Typically, master's projects are presented as DVDs, videotapes, films, multimedia presentations, computer graphics designs, public relations or advertising campaigns, complete media business plans, or scripts. The minimum number of credits required for the portfolio option is 34.
Those students interested in conducting independent research and/or pursuing further graduate studies within the M.A. in Communication Arts are offered a thesis option. This selection entails independent written research work, conducted by the student under the direct guidance of a faculty advisor. To pursue this option a student must enroll in COMM 750 (Thesis) after having had the thesis proposal approved by her/his thesis advisor. All proposals must be submitted before the beginning of the student's final semester. The thesis must be accepted by a committee consisting of the faculty advisor and two readers prior to conferral of the degree. The minimum number of credits required for the M.A. degree following the thesis option is 32.
Specialization
Individually structured specializations may be designed within the following six areas (specializations are not equally distributed on each campus):
Cinema Studies
Advertising and Public Relations
Electronic and Print Journalism
Media Management
Television, Film, and Broadband Production
Computer Graphics and Interactive Media
Students may combine a number of content areas to meet individual needs and interests. Some courses may be taken in other graduate divisions, such as business, behavioral science, labor and industrial relations, or computer science, but permission must be obtained from both the related academic school as well as the Department of Communication Arts in such cases.
Advanced Coursework
Special courses, including internships and guided projects in communication arts, may be arranged for advanced students. To qualify, students must have completed 12 credits. Students must also have completed coursework in an area of specialization. Approval of proposals and internships by the full-time faculty of the department is, of course, required.
Rights to Media Productions Developed in NYIT Coursework
Essentially, this policy covers films, video and audio productions, and other non-print media. All films and digital videos, digital audio, and websites produced in the Department of Communication Arts in fulfillment of class assignments, or as advanced individual study projects, whether made on NYIT premises or elsewhere, with or without departmental equipment, with or without extra funds, are subject to the following ownership policy:
All such projects are co-owned by the student and NYIT. In each case the students who originate the project should decide which student or students co-own it with NYIT.
Either the student or NYIT may arrange distribution. Students who do not wish to have their project distributed or published may veto distribution.
NYIT will decide whether to put its name on the given project.
Distribution deals, whether arranged by NYIT or by the student, must be approved and signed by the dean.
All income, and other up-front obligations paid, will go directly from the distributor to the student and NYIT on a 50/50 basis. Outside funding is not considered to be an up-front obligation.
NYIT's income will be used for scholarships, for funding future student projects, and for fees and expenses in connection with placing student work in festivals. If a project wins a prize, that prize goes to the student, less the cost of placing it in competition.
Projects may be distributed only after a faculty advisor is certain that all necessary clearances have been obtained by the student.
The student and NYIT each have a right to prints (copies) at cost as such prints (copies) are needed for NYIT or student use. Such prints (copies) may not be rented or sold.
---
Back to Top
Admission Requirements
Minimum undergraduate GPA of 2.85 for full matriculation to the program. Scores on the GRE or other diagnostic tests may be requested to assist in evaluation of a candidate's credentials.

Applicants with an undergraduate GPA between 2.5 and 2.84 may, at the discretion of the director, be given the opportunity to demonstrate their qualifications for full matriculation by achieving a graduate cumulative GPA of 3.0 or higher in their first four graduate degree courses. In addition, these students may be required to take the GRE.
Applicants with an undergraduate GPA below 2.49 should take the GRE and achieve a minimum score of 153 to be considered for admission.

Basic media production competencies, as evidenced by undergraduate transcripts or hands-on professional experience.

Students without basic skills will be required to take one or more three-credit prerequisite courses specifically structured to provide these proficiencies. The prerequisite credits may not be applied to the total number of graduate credits required for degree completion, but they will appear on official transcripts.

International applicants whose first language is not English may be required to take select undergraduate coursework, which also does not apply to the degree, and includes offerings within the English program and/or the English Language Institute.
Application Materials
Completed application
$50 nonrefundable application fee
Copies of undergraduate transcripts for all schools attended. All final, official transcripts must be received prior to the start of your first semester.
Copy of college diploma or proof of degree
Official GRE scores, if required (NYIT GRE Code: 2561)
International student requirements: English proficiency (TOEFL/IELTS/PTE scores), I-20, and transcript evaluation
Students who meet admissions requirements but have insufficient documentation by the time of registration may enroll as nonmatriculated students while official documents are received and processed. Working professionals who seek specific competencies in the M.A. in Communication Arts program but have no degree objective may be admitted under this category. Admission is on a space-available basis after a review of background. Registration is limited to three courses. Coursework taken in a nonmatriculated status becomes part of the degree program upon matriculation.
Part-time students generally plan to complete their degree within a two- or three-year period and must maintain matriculation. The graduate degree must be completed within five years.
For more information about communication arts, email commarts@nyit.edu.