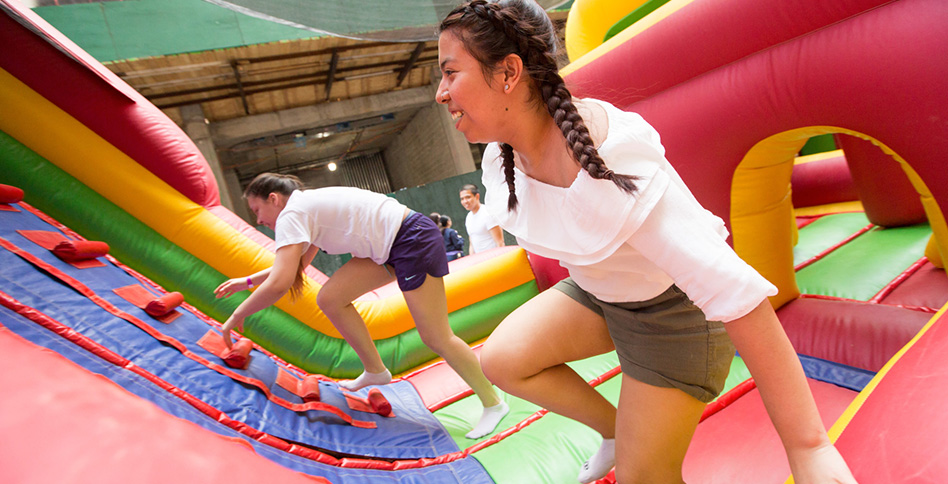 Student Activities
NYIT campuses provide a developmental environment that promotes personal responsibility and leadership through involvement in cultural, educational, and social events outside the classroom. Most activities are initiated through student-run, cocurricular and academic organizations, including publications, radio stations, and groups with social, service, religious, cultural, and special-interest affiliations.
There is an Office of Student Engagement on each NYIT New York campus to coordinate cocurricular initiatives and activities, dialogues and discussions, and provide a liaison to student government organizations. Professional staff members advise student organizations, schedule campus facilities for student programs, assist in forming new clubs, and coordinate an orientation program for new and transfer students.
Academic Clubs: NYIT academic schools actively advise and support student-run organizations, most of which maintain national affiliation with professional societies. Involvement and membership include participation in special projects, benefits of affiliation with professional societies, and assisting the school and its students in furthering educational programs.
Honor Societies: International and national honor societies that recognize distinction in scholarship and achievement offer membership to high-achieving students. NYIT has chapters in three nationally recognized, nondiscipline-specific honor societies:
Phi Eta Sigma National Freshman Honor Society accepts full-time matriculated students who have earned a 3.5 GPA or higher during the fall or spring semesters of their first year at college.
Golden Key International Honor Society accepts full-time, fully matriculated students of sophomore, junior, or senior status who have successfully completed at least 31 credits (transfer students must have received at least 12 of these credits from NYIT) and have demonstrated scholastic excellence by maintaining a 3.7 GPA or higher.
National Society of Leadership and Success is the nation's largest leadership honor society. Students are selected by their college for membership based on either academic standing or leadership potential. Candidacy is a nationally recognized achievement of honorable distinction.
Discipline-specific honor societies recognize high academic achievement among students majoring in particular subjects. NYIT has active chapters in a number of discipline-specific national honor societies; membership is open to upperclassmen and graduate students, and each is administered through their respective academic schools.
Student Organizations
Student Government Association: NYIT's Student Government Association (SGA) is the official voice of the student body. The SGA advocates on behalf of student interests—academic, cultural, and social.
Graduate Student Association: This group serves as the governing body and official voice of graduate students. They provide academic and social programming to connect graduate students to the NYIT community.
Special-Interest Groups: Each campus and its student government offer participation and membership in special-interest clubs, such as the International Student Association, Law Society, Queer Society and PRIDE group, American Institute of Architecture Students, National Society of Black Engineers, Colleges Against Cancer, and Behavioral Science Club.
Social Organizations: Fraternities and sororities play an active role in the student activities program at NYIT. Membership emphasis is placed on leadership, friendship, creativity, academic excellence, philanthropic endeavors, and responsibility through social and service projects.
Religious Organizations: Intervarsity Christian Fellowship, Jewish Student Union, and Muslim Student Association are active in planning religious, cultural, educational, social, and nonsectarian activities for students, faculty, and staff.
Student Media: The Campus Slate on the Long Island (Old Westbury) campus is NYIT's student-run newspaper founded in 1966. It is published in print and digitally. NYIT also maintains the student-operated WNYT radio station on the Long Island (Old Westbury) campus. WNYT is heard online, with Internet-based programming via RealAudio. WNYT Radio also broadcasts NYIT Bears sports, giving more exposure to the station, along with universal praise from the music industry. The Manhattan Globe on the Manhattan campus is the NYIT's student-run newspaper recently reactivated and providing NYIT Manhattan students with the latest campus and current events.