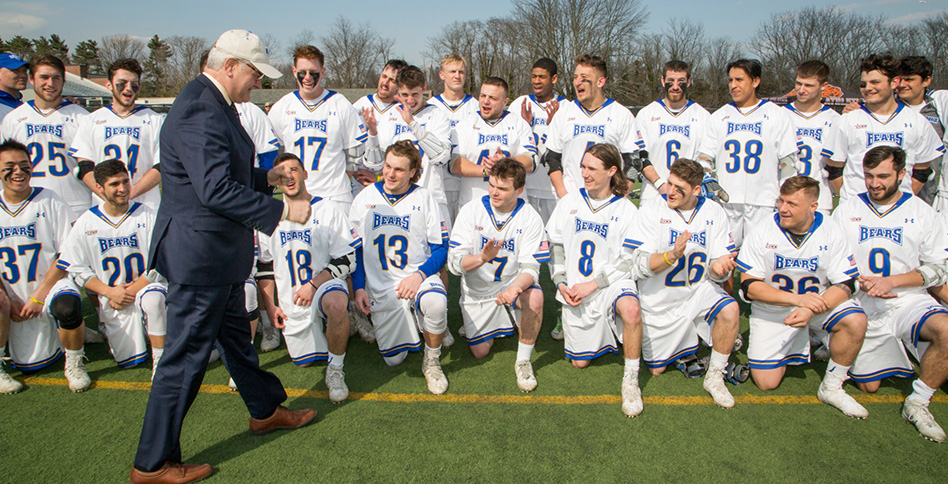 Athletics and Recreation
NYIT's athletic teams are known as the Bears and compete in NCAA Division II as members of the East Coast Conference (ECC). The school colors are blue and yellow.
NYIT offers 12 varsity sports: baseball, men's and women's basketball, men's and women's cross country, men's and women's lacrosse, men's and women's soccer, softball, and men's and women's indoor and outdoor track.
The department also has been in the forefront in eSports.
The overall cumulative GPA for NYIT's intercollegiate programs was 3.24 during the 2017–2018 academic school year. All athletic programs engage in community service projects that foster social development by enabling student-athletes to bond with their internal and external communities. Programs include visiting neighboring elementary schools to participate in educational programs, senior citizens' visits, food drives, various walks for a cause, and a plethora of cleanup projects. Additionally, the Student-Athlete Advisory Committee (SAAC) sponsors a number of on-campus community awareness initiatives.
The Bears athletic programs have thrived on the fields of play. The lacrosse team has won four national championships, in 1997, 2003, 2005, and 2008. The men's basketball team reached the national championship game in 1980. And the men's soccer team reached the Final Four in 1985 and the Elite Eight in 2005.
The men's and women's tennis teams have also been highly successful. In fact, the women won their unprecedented seventh straight ECC title in the fall of 2018. The women's basketball posted the program's first two NCAA tourney wins in 2016.
In June 2015, renovations surrounding the Sports Complex began. The construction of a fitness center in the former Hall of Fame lobby was completed, locker room space expanded, and the tennis courts received a facelift after a harsh winter.