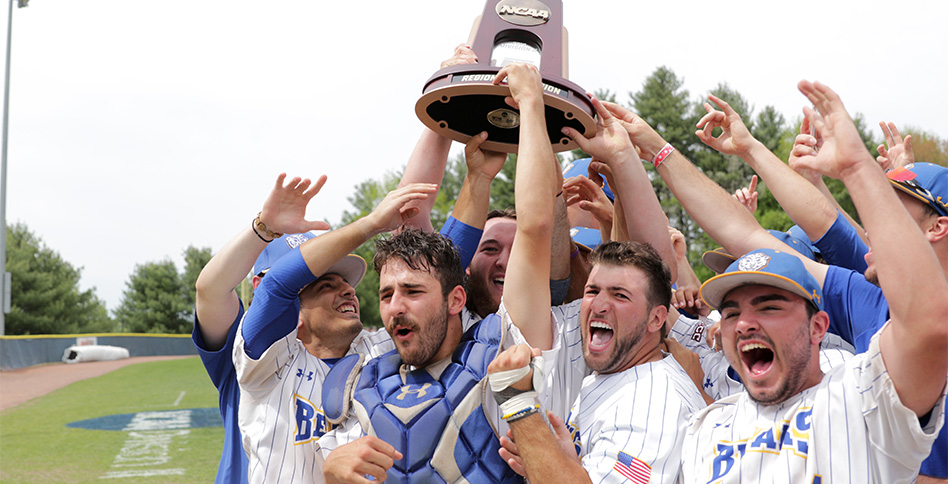 Intercollegiate Athletics
New York Tech's athletic teams are known as the Bears and compete in NCAA Division II as members of the East Coast Conference (ECC). The athletic colors are midnight navy and steeltown gold.
New York Tech offers 14 varsity sports: baseball, men's and women's basketball, men's and women's cross country, men's and women's indoor track and field, men's and women's outdoor track and field, men's and women's lacrosse, men's and women's soccer, and softball.
The department of intercollegiate athletics and recreation also has been in the forefront in esports. The Cybears, as they are officially known, captured the inaugural East Coast Conference League of Legends Championship in March 2019.
The overall cumulative GPA for NYIT's intercollegiate programs was 3.18 during the 2018–2019 academic school year. All athletic programs engage in community service projects that foster social development by enabling student-athletes to bond with their internal and external communities. Programs include visiting neighboring elementary schools to participate in educational programs, senior citizens' visits, food drives, various walks for a cause, and a plethora of cleanup projects. New York Tech student-athletes volunteered a total of 2,002 hours during the 2018–2019 academic year. Additionally, the Student-Athlete Advisory Committee (SAAC) sponsors a number of on-campus community awareness initiatives.
The Bears athletic programs have thrived on the fields of play. The lacrosse team has won four national championships, in 1997, 2003, 2005, and 2008 and won back to back East Coast Conference Championships during the 2017 and 2018 seasons. The men's basketball team reached the national championship game in 1980. The men's soccer team reached the Final Four in 1985 and the Elite Eight in 2005. In 2019, the Bears baseball team captured the NCAA Division II East Regional Championship and made its first appearance in the NCAA Division II College World Series.
The women's basketball posted the program's first two NCAA tournament wins in 2016 and won its first East Coast Conference Tournament Championship during the 2018–2019 season.
During the Summer of 2019, the Bears concluded a re-branding initiative that re-imagined the Bears brand, brought back the New York Tech moniker to its athletic teams, and saw the return of the traditional navy and gold school colors that many of our alumni recall. In addition to a new brand identity, a wood basketball floor was installed in Recreation Hall and is enjoyed by not just Tech student-athletes but the Tech community as a whole.