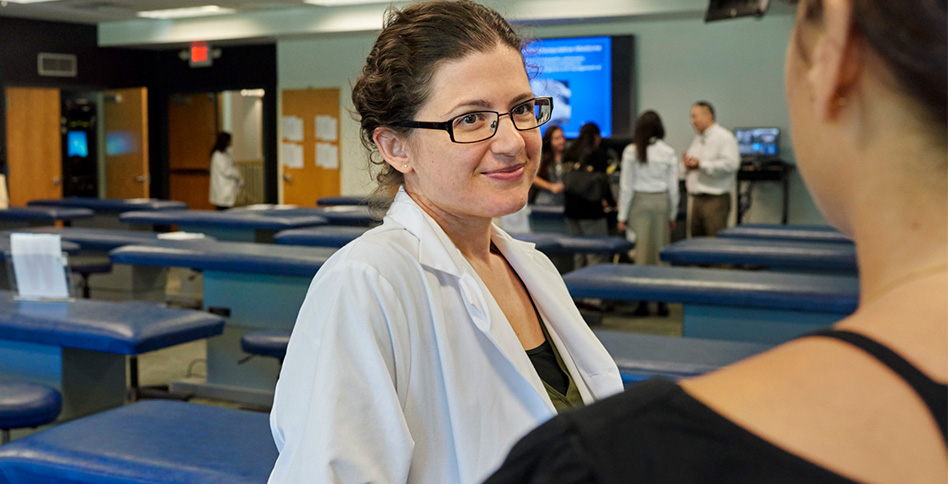 Concurrent Programs
New York Institute of Technology—through its School of Health Professions, School of Management, and College of Osteopathic Medicine—has developed unique programs that allow College of Osteopathic Medicine students the opportunity to obtain two degrees within the usual structured four-year medical curriculum. Enrollment in the Concurrent Degree Programs is contingent upon College of Osteopathic Medicine approval.
D.O./Master of Business Administration (M.B.A.)
The Master of Business Administration degree program enhances the graduate's efficiency and skills as a clinician by equipping him/her for the business side of medicine. The student learns to effectively manage resources, including time, money, equipment, and personnel, and becomes prepared to cope with practice management, HMOs, and the administration of academic health care centers, hospitals, and clinical departments.
Entrance Requirements
An applicant must have successfully matriculated and completed their first year at the College of Osteopathic Medicine, as well as have the College of Osteopathic Medicine's approval to apply for the program. MCAT scores are accepted in lieu of GMAT scores. Students who have not completed required undergraduate accounting, economics, and computer courses will be scheduled to complete them at the onset of the program.
D.O./Master of Science in Clinical Nutrition (M.S.)
The D.O./M.S. degree provides didactic knowledge at the interface of clinical medicine and nutrition, and develops skills to utilize nutrition in the practice of preventative medicine, wellness, and total body care. Students study preclinical medicine science integrated with courses on the molecular and cellular roles of nutrients in maintaining health and preventing disease. Coursework in physical nutrition assessment, nutrition counseling, and nutrition support enhances student ability to access nutrition resources for patients. Interactive discussions with nutrition faculty and colleagues provide students with an understanding that nutrient status can be altered by the patient's genetic profile, underlying disease processes, concurrent drug and medical therapy, and lifestyle. As students enter their clinical years, they have multiple opportunities to develop skill in recognizing nutrient alterations in individual patients and in devising nutrient interventions appropriate to each case. Under faculty guidance, students access nutrition support for patients in acute and chronic conditions, and critically evaluate the plethora of nutrition information available to patients and professionals on the Internet and in the news media. Upon successful completion of the D.O./M.S. program, students are eligible to apply for credentialing as physician nutrition specialists.
Entrance Requirements
Applicants must be matriculated students at the College of Osteopathic Medicine and have the College of Osteopathic Medicine's approval to apply for the program. Full matriculation in the M.S. program is contingent upon maintaining an average of "B" or better during the first and second years of the M.S. program. Graduate courses are offered fully online.
D.O./Medical/Healthcare Simulation (M.S.)
The Master of Science in Medical/Healthcare Simulation program prepares professionals for careers in the growing field of human/patient simulation.
View more information about this program
Interested applicants for any concurrent degree program should contact:
New York Institute of Technology College of Osteopathic Medicine Office of Admissions
Hannah and Charles Serota Academic Center, Room 203
Northern Boulevard
P.O. Box 8000
Old Westbury, NY 11568-8000
Phone: 516.686.3997
Fax: 516.686.3831
Email: comadm@nyit.edu