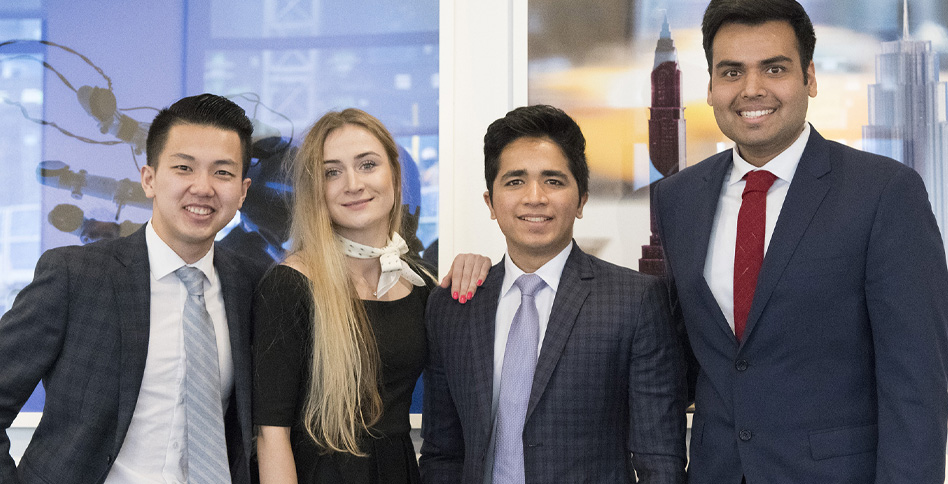 Executive Certificate of Business Administration (ECBA)
The world is experiencing rapid geopolitical and economic changes. While regional economies are increasingly integrated, companies are more challenged by diverse cultural environments, varied market needs, international competitors, and technological and product innovations. To survive the competition of the 21st century, companies must continuously learn, adapt, and innovate as quickly as the world around them. They often need to develop a business strategy in response to global competitors. Our Executive Certificate of Business Administration addresses these changes.
Since 1955, New York Institute of Technology has emphasized career-oriented professional education. Our graduates can be found working at leading business corporations and organizations such as Disney, CBA, General Electric, Merrill Lynch, PepsiCo, Verizon, and the Metropolitan Transit Authority. The President's Medal has represented the institution's highest level of honor. Past recipients include Richard Riley, former U.S. Secretary of Education, and Bill Gates, former Microsoft chairman and CEO. In Mr. Gates' acknowledgment speech, he first introduced the concept of "I Generation" in discussion of the opportunities and challenges faced by the first generation of Americans to grow up with the Internet.
Global Executive Certificate Programs
The School of Management, in partnership with leading universities overseas, has developed global executive programs to prepare top business executives for the global era, making them capable of building and leading world-class business firms in today's global environment. This is in keeping with the school's long-term strategic plan's global vision and maintaining its strong commitment to the Chinese market. Students that are enrolled in the School of Management Executive Master of Business Administration program will be participants in the Certificate program, which includes campus visits and lectures at leading institutions throughout the United States. Specific campus locations and lectures rotate periodically and are chosen for each cohort by the Director of the Executive Master's program.
Participants
The program targets board chairs, CEOs, general managers, and other executives in top management positions who are involved in the strategic management process and are enrolled in the School of Management Executive Master of Business Administration program.
Core Value of the Program
The program provides participants with the following benefits:
Further understanding of the political, cultural, social, and economic impacts of globalization
Ability to understand the critical issues in management and business operations in the context of China's macro environmental setting
Knowledge of how to institutionalize the strategic management process to promote a firm's capability for continuous innovation and compete more effectively against industry rivals
General knowledge and skills in finance, marketing, and management
Better managerial decision-making processes
Cultivation of managerial potential and improvement in leadership skills
Maintaining and improving individual and organizational competitive advantages in a dynamic business environment
Building bridges to the international business community, including to the Western marketplace