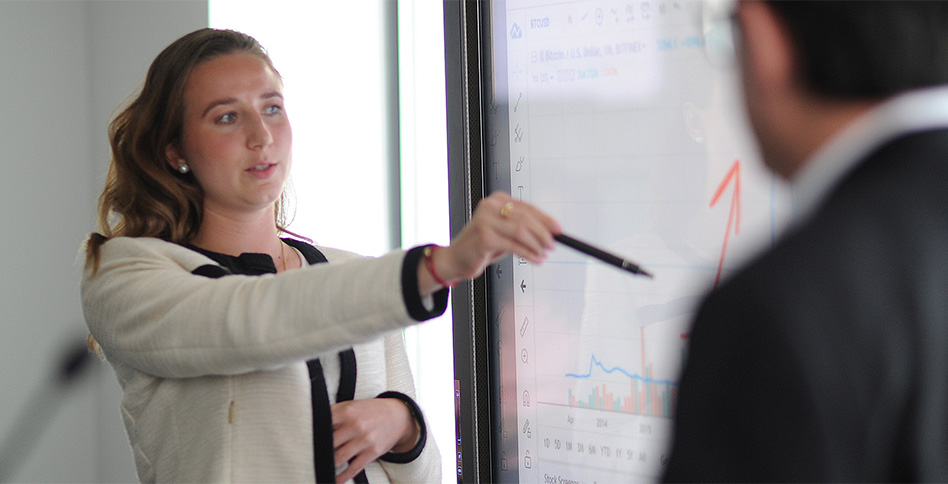 B.S.B.A. (Accounting Option) Plus M.B.A. (Professional Accounting) Track
NYIT offers a Bachelor of Science in Business Administration (Accounting Option) degree, plus a Master of Business Administration (Professional Accounting) degree. Our programs prepare students to successfully complete the CPA examination and pursue a rewarding career in the public accounting profession. Graduates are qualified for admission to the New York State CPA examination upon completion of the 120-credit undergraduate B.S.B.A. (Accounting Option) degree. To become a New York State CPA, students must complete the MBA (Professional Accounting) degree, as well as the thirty (30) credit Accounting Module or equivalent coursework, pass the CPA examination, and practice public accounting in New York for a minimum of one year.
Degree requirements for the B.S.B.A. (Accounting Option) include 120 credit hours of undergraduate coursework plus the M.B.A. (Accounting Specialization) curricular requirements. The coursework is in keeping with the professional educational requirements for public accounting licensure as specified in the recent amendments to sections 52.13, 70.1, and 70.2 of the NYSED Regulations of the Commissioner.
Learning Goals: B.S.B.A. (Accounting Module) Plus M.B.A. (Professional Accounting)
Upon successful completion of the Business Administration (Accounting Module) plus a Master of Business Administration (Accounting Specialization), students:
Conduct research and analysis related to practice/contemporary issues and questions in accounting theory, as well as auditing and taxation, and effectively communicate such findings
Synthesize accounting concepts, the regulatory environment, and professional practice issues and challenges
Appraise the significance and evaluate the impact of ethics, professionalism, and social responsibility in accounting
---
Back to Top
This program follows our general admission requirements.
Application Materials
Completed application
$50 nonrefundable application fee
Copies of transcripts of all high school work, including college-level courses. Your midyear and final grades will be required. All final, official transcripts must be received prior to the start of your first semester.
Official SAT (critical reading and math only) or ACT test scores. You have the option of submitting results from the previous or redesigned SAT. If you have fewer than 24 credits of previous college work completed, you will need to submit official SAT or ACT scores.


NYIT SAT Code: 2561, NYIT ACT Code: 2832

Two letters of recommendation

300–350 word essay on one of the following topics:

Tell us about your career goals and why attending NYIT would further these goals.
Describe the achievement of which you are most proud and why.