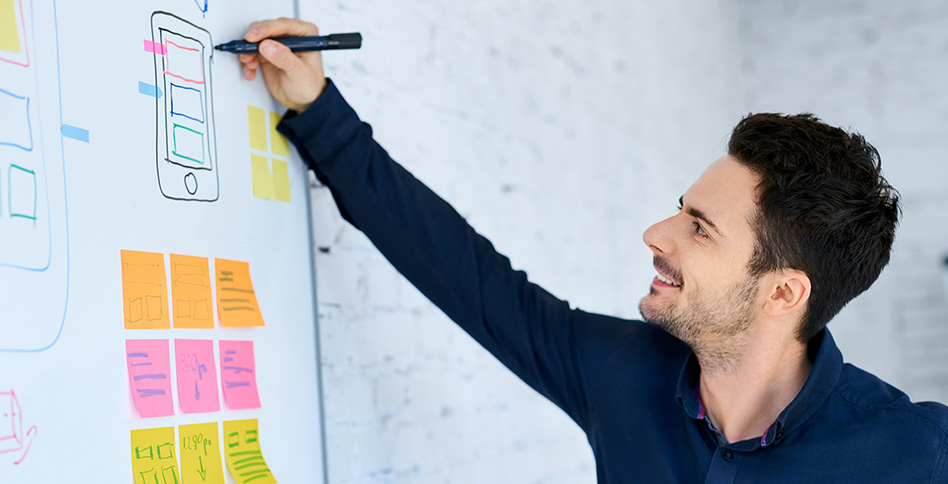 UX/UI Design and Development
UX/UI (User Experience/User Interface) Design and Development is emerging as an important asset in many industry sectors, including entertainment (gaming, motion pictures, theme parks, Facebook's VR platform, etc.), military, aerospace, digital arts, communications, media production, architecture, business, science, medicine, computer science, and engineering.
Technological advancements including augmented reality (AR) present further opportunity for innovating user experiences. The success of the digital experience depends on sophisticated interactive design, which is implemented using state-of-the-art hardware and software techniques. The work of UX/UI designers and developers will continue to expand as the technology develops and companies increase their digital presence.
In conjunction with our diverse, committed faculty, the Department of Digital Art and Design possesses a facility that is unique and makes NYIT stand out. Through the department's HIVE (Home of Innovation, Visualization, and Exploration) lab, NYIT students have an opportunity to work with an impressive array of cutting edge technologies that rivals other institutions. The HIVE provides access to advanced visualization tools to push the possibilities of any UX/UI design goal.
The Master of Art in UX/UI Design and Development is designed to offer students visual design strategies; digital development skills; and fundamental knowledge of industry standards, technologies, and terminologies, along with creative thinking and problem solving. The degree is in line with NYIT's mission of offering career-oriented, professional education.
The M.A. is oriented toward artists and non-artists who are aiming to be designers of interactive experiences. This program will provide students with a master's-level understanding of how to design and develop a range of user interfaces within a variety of contexts. These competencies are increasingly important in an expanding variety of fields emerging from interdisciplinary studies and industries.
---
Back to Top
Admission Requirements
The M.A. in UX/UI Design and Development program accepts students for fall semester admission only.
B.F.A. degree or its equivalent from an accredited college or university.
Minimum undergraduate GPA of 3.0.
Application Materials
Completed application.
$50 nonrefundable application fee.
Curriculum Vitae/Résumé.
Letter of Recommendation (optional).
Statement of Purpose/Personal Statement: You must submit a statement of purpose of 300 to 500 words, which should include academic/career objectives and creative intent.
A Portfolio and description sheet are recommended but not required.
Copy of college diploma or proof of degree.
International student requirements: English proficiency (TOEFL/IELTS/PTE), I-20, and transcript evaluation.
Transition from the M.A. to M.F.A. Degree Policy
The Master or Art in UX/UI Design and Development is transitional to the M.F.A. in Digital Art and Design – Fine Arts and Technology OR the M.F.A. in Digital Art and Design – Graphic Design, and NOT to the M.F.A. in Digital Art and Design – Animation.
All 30 credits of the M.A. degree will transition to the M.F.A.
Graduate Critique/Thesis Orientation ARTC 802 will be waived; however, the credits will still need to be taken in the form of an elective.
Master's Project (ARTP 802) is co-listed with Thesis Proposal (ARTC 853). Thus, students who have taken Master's Project do not need to take Thesis Proposal.
Transition from other NYIT Graduate Programs to the M.A. Degree
Graduates of other NYIT graduate programs may only transition six NYIT credits to satisfy the six elective credits required.