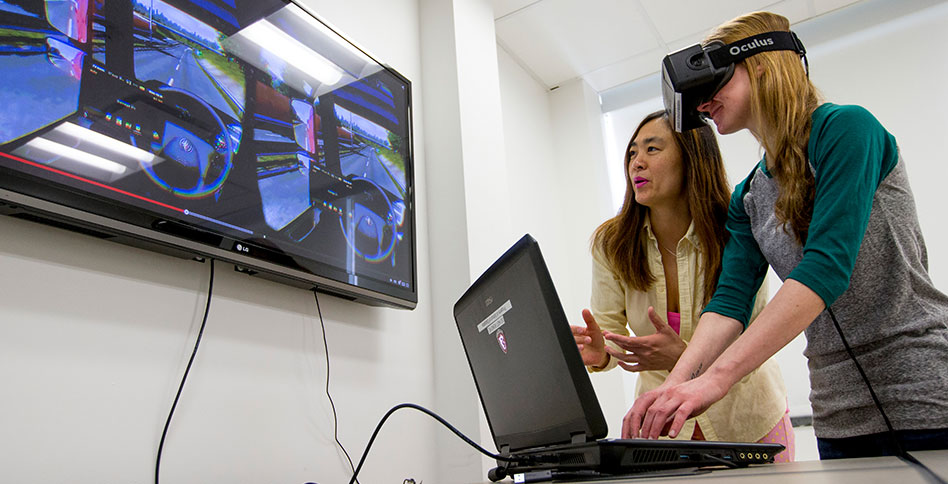 Programs in Instructional Technology for Educators
As technology development moves at breakneck speeds, you need to be adept at choosing, using, and applying technology in your elementary and secondary school curricula. Our program gives you the knowledge and hands-on experience to become a master teacher, school or district instructional technology leader, coach, professional developer, or instructional designer.
You'll learn to adapt and apply technology to enhance the teaching of P–12 curriculum for diverse learners. You will also gain theoretical knowledge and leadership perspectives to provide of leadership to guide long-term strategies for technology adoption design and implementation.
Upon successful completion of the nationally recognized and NYSED-approved NYIT program, you'll be eligible for New York State certification as an Educational Technology Specialist and for permanent or professional certification in your initial certification area. An option for non-certified educators and others interested in technology in teaching and learning is also available.
NYIT offers two programs in Instructional Technology for Educators:
Master of Science in Instructional Technology (Educational Technology Specialist)
Master of Science in Instructional Technology (No Certification/Specialization)
The 33-credit Master of Science in Instructional Technology for Educators enables teachers to effectively integrate advanced technology into their classroom practices to enhance learning for all students. There are two options in this program: Educational Technology Specialist Certification and No Certification. The Educational Technology Specialist option is open only to New York State-certified teachers. It leads to permanent or professional certification in the candidate's first area of certification and as an Educational Technology Specialist if the candidate has a minimum of three years teaching experience. The No Certification option is open to educators who are not certified in New York State and others who have a bachelor's degree and interest in instructional technology in K–12 education. It does not lead to Educational Technology Specialist certification.
Coursework focuses on the evolving uses of technology in the classroom, sound pedagogy, and applications in K–12 curriculum. Candidates develop expertise in the use and development of leading-edge technology and applications for teaching and learning. Field experience is required to expand the candidates' knowledge of the field of instructional technology and to develop skills to meet certification requirements.
NYIT is a leader in the development of technology-assisted discovery learning and has received major grants from several foundations and from the New York State Department of Education for the development of such programs.
The Instructional Technology program aligns with the professional standards of the International Society for Technology in Education.
Candidate Profile
Most candidates for the Educational Technology Specialist program are provisionally or initially certified in elementary education or in a secondary subject area. They are pursuing graduate study for permanent or professional certification in their initial area and an additional area of certification as an Educational Technology Specialist.
Candidates in the No Certification option are often teachers in private or nonpublic schools or persons who work in education-related positions such as curriculum developers, library media specialists, children's media developers, or teachers in for-profit or not-for-profit educational support centers.
Prerequisites
Candidates in both options must have a baccalaureate degree and 3.0 GPA to qualify for admission to the program. In addition, they must demonstrate proficiency in basic uses of classroom technology. In the event they do not have these skills, program faculty will recommend appropriate prerequisite courses to be taken before beginning the program of study.
---
Back to Top
Admission Requirements for M.S. Programs
B.S. degree or its equivalent from an accredited college or university
Minimum cumulative undergraduate GPA of 3.0
Students who have a GPA between 2.85 and 2.99 may be considered for conditional admission by the program chair. If students are admitted conditionally, they must achieve a 3.0 GPA in the first six graduate credits to continue in the M.S. program.
In accordance with New York State's regulation and accreditation agency's requirements, applicants should submit official report of a national standardized exam (GRE or MAT) with a competitive score. Please contact the department for details.
Demonstrate proficiency in basic uses of instructional technology at the beginning of the program. If students not have requisite skills, program faculty will work with them to determine appropriate prerequisite courses to address the deficits. This is done on an individual basis.
Initial/provisional or permanent/professional New York state certification in any teaching area
Achieve a passing score on the New York State Teacher Certification Examinations (NYSTCE) Content Specialty Test (CST) for the area of initial certification
Application Materials
Completed application
$50 nonrefundable application fee
Submit two letters of recommendation
Submit a personal statement of why you want to become an educational technology specialist
Copies of undergraduate transcripts for all schools attended. All final, official transcripts must be received prior to the start of your first semester.
Official exam score (NYIT GRE Code: 2561, NYIT MAT Score: 1487)
Copy of college diploma or proof of degree
Copies of teaching certificates you currently hold if you are seeking New York State certification
International student requirements: English proficiency (TOEFL/IELTS/PTE), I-20, and transcript evaluation
Special Note
New York education law now permits nonresident aliens to qualify for an initial license. Individuals with U.S. citizenship or permanent resident status may qualify for a permanent or professional New York State Teaching Certificate.