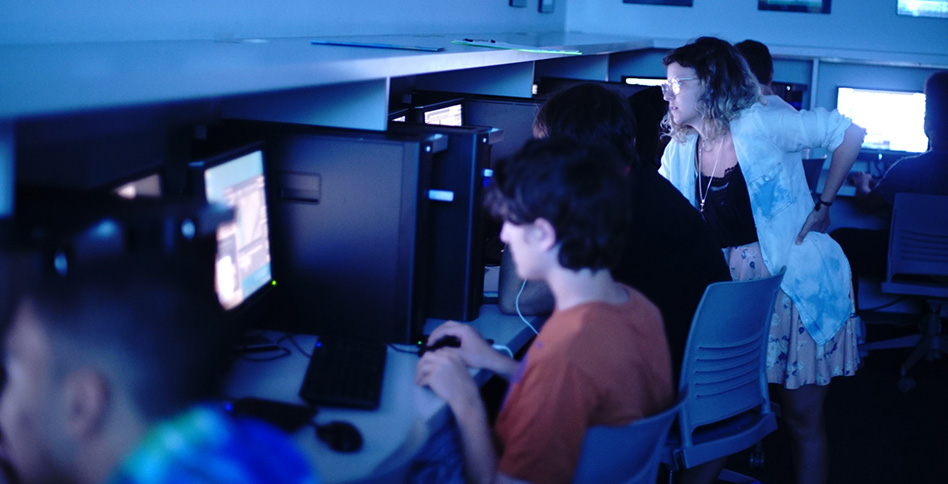 Communication Arts Undergraduate Program
The distance between Madison Avenue and Hollywood or between the blogosphere and the editing suite is closer than ever. The communications industry of the 21st century demands professionals who can span that distance. Successful media professionals have diverse skills and know how to use multiple platforms—digital, visual, written—to produce and disseminate their messages.
This versatility is characteristic of NYIT Communication and Media Production graduates: newspeople who can write, edit, and deliver a news story on the air and on the Internet; new media specialists who design, digitize, animate, and publish websites; television specialists and filmmakers who write, direct, and edit for television, cinema, and the web.
Communication and Media Production students may focus on the converging aspects of traditional media, programming and production for television and film, audio recording and radio, advertising/public relations, print and electronic journalism, corporate, and international communication.
Our newly equipped laboratories also permit study and experimentation in the latest aspects of digital and motion graphics, web design, and new media that may be integrated into multiple media platforms, including the web.
All NYIT communication and media production students receive a solid conceptual grounding, hands-on instruction in the practical aspects of the discipline, and digital literacy on the latest equipment. Through this combination of learning and doing, of time-honored principles and timely applications, our students learn how to function successfully in the new, integrated world of communications.
Degree Programs
NYIT's Department of Communication and Media Production offers six options:
Associate of Applied Science Communication Arts (A.A.S.)
Bachelor of Fine Arts Advertising, Public Relations and Technology (B.F.A.)
Bachelor of Fine Arts Digital Film and Television Production (B.F.A.)
Bachelor of Fine Arts Global and Electronic Journalism (B.F.A.)
Bachelor of Fine Arts Communications and Media Production (B.F.A.)
Combined B.F.A./M.A. Program Communication Arts
Associate of Applied Science Communication Arts (A.A.S.)
The Associate of Applied Science with a major in Communication Arts, for those students unsure about their career plans, is a degree offering the opportunity to take selected courses in different areas with basic coursework in all media, a humanities core, and a selected specialization. This is a two-year, 60-credit program.
Bachelor of Fine Arts Advertising, Public Relations and Technology (B.F.A.)
As an Advertising and Public Relations major, you will participate in workshops and production groups such as our student-run advertising and public relations agency. You will choose from extensive internships and guided projects, which will culminate in an e-portfolio of your student work. Our BFA in Advertising, Public Relations and Technology is unique as we embrace the "experiential model," which emphasizes "real world" experience. This is a four-year, 120-credit program.
Bachelor of Fine Arts Digital Film and Television Production (B.F.A.)
As a Digital Film and TV Production major, you will make the most out of your college career by pursuing a career in the robust, technologically evolving entertainment industry, specifically as a TV or filmmaker, producer, director, writer, cinematographer, visual effects or motion graphics editor, video editor or more. Embracing our experiential model or "learn by doing" method, our accomplished faculty will teach you how film and television professionals create and collaborate. You will brainstorm, develop, write, produce, direct, edit and distribute content. In NYIT's in-house production company, you will experience a "real world" environment with professional clients similar to your future career as a working professional. This is a four-year, 120-credit program.
Bachelor of Fine Arts Global and Electronic Journalism (B.F.A)
As a Global and Electronic Journalism major, you will start with toolbox classes—learning how to shoot and edit, how to write, ask questions, and report. Because journalists also have an important societal role, survey classes are equally critical—like the role of a free press and media in society, ethics, and the issue of news versus opinion. As a Global and Electronic Journalism major, you will "learn by doing" and advance your skills by participating in NYIT's international, web-based news and entertainment platform. You will report and edit stories, working in tandem with your peers well as our international contributors. A Global and Electronic Journalism degree will prepare you with the skills needed for a professional environment in an ever-changing and increasingly media literate global society. This is a four-year, 120-credit program.
Bachelor of Fine Arts Communication and Media Production (B.F.A.)
As a Communication and Media Production Major, you will be encouraged to participate in NYIT's in-house agencies to foster your development of industry skills. You will participate in "real world" experiences with professional clients and enhance your skills with recommended internships. This degree offers you all of the unique opportunities afforded the more specialized degrees including internships, guided projects, professional advice and critique of student work, as well as an e-portfolio of the individual student's work. The Communication and Media Production degree will prepare you for the challenges of a professional environment in an ever-changing global society, one that is frequently driven by media experiences. This is a four-year, 120-credit program.
Communication Arts Combined B.F.A./M.A. Program: Five Years
Please be advised that this program is currently not accepting any new students.
The Communication Arts Combined B.F.A./M.A. program allows students to achieve a Bachelor of Fine Arts in Communication Arts and a Master of Arts in Communication Arts in five years. The program creates a fast track to our master's degree by allowing accomplished communication arts students to complete a total of 109 undergraduate credits, and then move into the 36 credit Master of Arts program. This combined degree is intended for students who wish to be recognized as graduates of a highly competitive and unique program. It also offers students an opportunity to gain an edge in the marketplace while incurring less time and expense.
Specialized Professional Opportunities
Center for Global Media: Students who have an interest in newswriting, reporting, and production may register for specific courses in the production of a cable and Internet news program under professional supervision. Registrants must be available at least one full day a week. Special features and news stories are also produced by students in Manhattan enrolled in the TV news writing and production courses.
Externship Program: To further enhance student professionalism grounded in coursework, NYIT administers an extensive internship program. Qualified advanced students are placed in professional work environments. Working for a semester or more within an organization, students acquire a sense of the "real world" for which they are preparing, and receive academic credit for their efforts. On many occasions, externships lead to full-time employment. NYIT externs are actively sought in all areas of communication: web-based organizations, broadcast networks and independent television and radio stations, cable networks and public broadcast stations, advertising and public relations agencies, international corporations, newspapers, magazines, and production companies.
To qualify, students must have junior or senior status, a GPA of 3.0 or better, and be recommended by academic advisors. Student interns can register for two, three, four, or five externship credits. Credit varies depending upon the scope of the assignment and time commitment by the student. You may repeat the externship in the same company if your responsibilities are diverse and expanded. Students should plan about 150 hours as the minimum commitment for a three-credit externship. The department sets the credit allocation and there is a 12-credit limit to the number of externship credits allowed on the undergraduate level.
Advertising and Public Relations Agency: The department provides a professional full-service agency environment in conjunction with advertising and public relations curriculum offerings. In Manhattan, the Agency Workshop and, on the Long Island (Old Westbury) campus, the Carleton Group serve this function for those majoring in advertising and public relations in the B.S. programs and those taking a specialization in this area in the B.F.A. program. On the graduate level, students work in an agency environment in the production house class.
Facilities
The Department of Communication Arts maintains studios and laboratories for all production classes in web design and new media, television, digital filmmaking, radio and sound, and advertising/public relations.
Television: Both campuses have digital studio cameras with ultimate live compositing capabilities as well as state-of-the-art AVID and Final Cut Pro editing suites. On Long Island (Old Westbury), a TV newsroom is equipped with AP wire service and web-based research services.
Filmmaking: On both campuses, digital filmmaking laboratories include HD digital cameras, editing stations, and screening facilities.
Radio: On both campuses, radio laboratories are equipped with digital stereo consoles, digital recording equipment, and digital audio editing programs. The sound-processing laboratories have voice recording, sound transfer, and digital-mixing facilities.
Motion Graphics: Multi-platform computer labs are available on both campuses to support all communication arts specializations including new media capabilities.
Radio Station: An Internet-based radio station is operated by students on Long Island (Old Westbury).
Quality of Academic Experience
Opportunities exist to broaden a student's exposure to communications by participating in NYIT academic, social, and service activities such as the campus newspapers, radio station, student government, and special events such as weekly free classic film series. Not all course offerings are available at each campus every semester. However, faculty and administration are always available for advisement and to discuss special needs.
Rights to Media Productions Developed in NYIT Coursework
Essentially, this policy covers films, video, and audio productions, and other non-print media. All films and videotapes, audio tapes, and websites produced in the Department of Communication Arts in fulfillment of class assignments, or as advanced individual study projects, whether made on NYIT premises or elsewhere, with or without departmental equipment, with or without extra funds, are subject to the following ownership policy:
All such projects are co-owned by the student and NYIT. In each case, the students who originate the project should decide which student or students co-own it with NYIT.
Either the student or NYIT may arrange distribution. Students who do not wish to have their project distributed or published may veto distribution.
NYIT will decide whether to put its name on the given project.
Distribution deals, whether arranged by NYIT or by the student, must be approved and signed by the dean.
All income, and other up-front obligations paid, will go directly from the distributor to the student and NYIT on a 50/50 basis. Outside funding is not considered to be an up-front obligation.
NYIT's income will be used for scholarships, for funding future student projects, and for fees and expenses in connection with placing student work in festivals. If a project wins a prize, that prize goes to the student, less the cost of placing it in competition.
Projects may be distributed only after a faculty advisor is certain that all necessary clearances have been obtained by the student.
The student and NYIT each have a right to prints (copies) at cost as such prints (copies) are needed for NYIT or student use. Such prints (copies) may not be rented or sold.
---
Back to Top
This program follows our general admission requirements.
Application Materials
Completed application
$50 nonrefundable application fee
Copies of transcripts of all high school work, including college-level courses. Your midyear and final grades will be required. All final, official transcripts must be received prior to the start of your first semester.
Official SAT (critical reading and math only) or ACT test scores. You have the option of submitting results from the previous or redesigned SAT. If you have fewer than 24 credits of previous college work completed, you will need to submit official SAT or ACT scores.


NYIT SAT Code: 2561, NYIT ACT Code: 2832

Two letters of recommendation

300–350 word essay on one of the following topics:

Tell us about your career goals and why attending NYIT would further these goals.
Describe the achievement of which you are most proud and why.