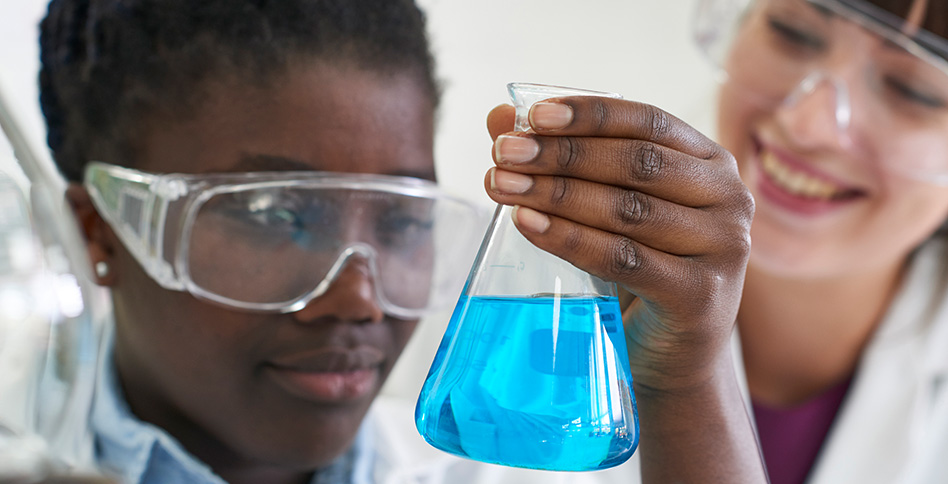 Middle School Extension Certification (Grades 7–9)
NYIT's teacher education program offers a Middle School Extension (grades 7–9) in Mathematics, Science (Biology, Chemistry, or Physics), and English. The program prepares candidates for application to an upward extension of New York state teacher certification for grades 7–9. Candidates who may apply are either enrolled in NYIT's graduate childhood education program, or have initial, permanent, or professional certification in elementary education K–6 or childhood education grades 1–6.
Our programs enable teachers to:
Extend their existing certification to 7–9 in mathematics, science (biology, chemistry, or physics), or English.
Develop knowledge and skills to effectively teach young adolescents.
Use research-based, effective teaching strategies, and technology to design instruction that maximizes success for middle school students.
---
Back to Top
Admission Requirements
Possess valid initial or professional certification in elementary or childhood education (grades 1–6). You may be in the process of completing certification.
You may need to complete additional coursework and a Content Specialist Test.
Demonstrated completion of at least 30 semester hours of college coursework in the subject area (English, mathematics, or science) to be taught with a GPA of 3.0. Acceptable courses for each certification area include:

Mathematics: 30 credits in courses offered by a mathematics department that are considered core requirements toward a degree in mathematics. For example, acceptable courses are mathematical reasoning, quantitative methods, number theory and concepts, algebra, analytic geometry, calculus, geometry, trigonometry, data analysis, probability, and discrete mathematics.
Biology: 30 credits in scientific methods, cell biology, biochemistry, anatomy and physiology, comparative anatomy, genetics and evolution, biological diversity, human biology, and ecology
Chemistry: 30 credits in scientific methods; matter and atomic structure; energy, chemical bonds, and molecular structure; chemical reactions; and quantitative relationships
Physics: 30 credits in scientific methods, mechanics, thermodynamics, electricity, magnetism, waves, sound, light, and quantum theory and the atom
English: 30 credits in courses offered by an English department that are considered core requirements toward a degree in English. For example, acceptable courses include composition, English literature, poetry, playwriting, grammar, and English linguistics. A maximum of six semester hours of credit for study in related areas such as speech, drama, theater, and journalism may be allowed toward this requirement.
Students should contact the department for advisement regarding concentration coursework eligibility.
Application Process
Online application
A copy of your initial or professional teaching certification in Childhood Education
$50 application fee
International student requirements: English proficiency, I-20, and transcript evaluation
Deadlines
Applications are reviewed on a rolling admission basis, as long as space is available.
Special Note
New York education law now permits nonresident aliens to qualify for an initial license. Individuals with U.S. citizenship or permanent resident status may qualify for a permanent or professional New York State Teaching Certificate.