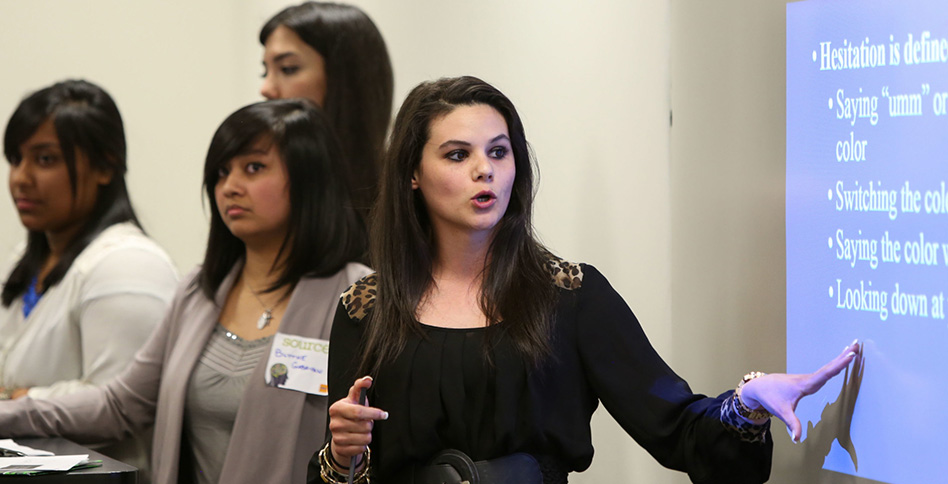 Behavioral Sciences
The Department of Behavioral Sciences offers a B.S. and minor in Psychology, a B.S. in Criminal Justice, and a B.S. in Behavioral Sciences with a social work/sociology option. These programs prepare students for a variety of careers in clinical, social, educational, industrial, and law enforcement environments.
Graduates become eligible for positions such as human relations specialist, caseworker, psychological technician, police officer, investigator, corporate security positions, emergency management positions, and various government positions. Similarly, graduates are prepared by means of these programs for postgraduate study and advanced training in the fields of psychology, sociology, social work, counseling, criminal justice, and law.
Traditional courses, online courses, and summer courses are offered.
The Department of Behavioral Sciences promotes the various research fields of its faculty, including biopsychology, addiction, criminology, group interactions, social psychology, psychological-physiological interrelationships, and crime, gender, and the media.
Combined Psychology, B.S./School Counseling, M.S. Program
This combined program will enable you to achieve B.S./M.S. degrees in five years. You will matriculate from an undergraduate major to a graduate candidate after your third year. After completing the program, you will be prepared to apply for a Provisional Certificate in School Counseling.
---
Back to Top
This program follows our general admission requirements.
Application Materials
Completed application
$50 nonrefundable application fee
Copies of transcripts of all high school work, including college-level courses. Your midyear and final grades will be required. All final, official transcripts must be received prior to the start of your first semester.
Official SAT (critical reading and math only) or ACT test scores. You have the option of submitting results from the previous or redesigned SAT. If you have fewer than 24 credits of previous college work completed, you will need to submit official SAT or ACT scores.


NYIT SAT Code: 2561, NYIT ACT Code: 2832

Two letters of recommendation

300–350 word essay on one of the following topics:

Tell us about your career goals and why attending NYIT would further these goals.
Describe the achievement of which you are most proud and why.
International Students Special Requirements
---
Back to Top
Transition to the M.S. Program
After completing the undergraduate portion of the degree program in Psychology in three years, you may be admitted directly into the M.S. in School Counseling program provided you meet the following requirements:
Undergraduate GPA of 3.2 or above through the fall semester of your junior year
Submit three reference forms from undergraduate instructors and/or advisors that attest to your ability to succeed both academically and professionally in a field that requires leadership, social justice advocacy skills, and a strong ability to collaborate. Goal Statement: In 250 words or less, describe how your career path has led you to the school counseling profession. What excites you about working as a school counselor?
Complete and submit the Statement of Understanding form
Group interview with graduate applicants, conducted in the spring of junior year. Schedule with the department office at 212.261.1529.