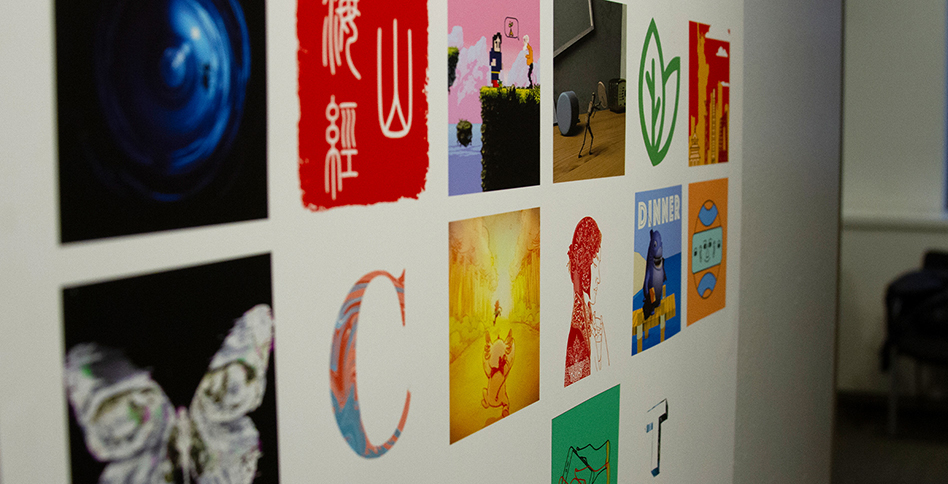 Digital Art and Design: Undergraduate Programs
A distinguished faculty of practicing artists and designers expose the student to a meaningful and rigorous academic experience that fosters creative exploration, critical thinking, refined craftsmanship, and professional development as they prepare for their art and design careers. Admission is competitive. Digital Art and Design applicants are required to submit a portfolio of previous artwork in which samples are evaluated for art, design, and conceptual thinking skills.
All curricula are designed to increase student awareness of the entire field of visual arts. Prior to specialized study, each area requires the same first-year foundation curriculum, which establishes principles of artistic concepts through emphasis on color, design, drawing, motion, time, and visual presentation. In addition, foundation courses provide an art historical and theoretical context. This is followed by a focused course of study that allows students to refine their crafts in the areas of animation, graphic design interactive/game design, and motion graphics.
The Department of Digital Art and Design's facility promotes the synthesis of technological tools and artistic expression. In the classroom and art media labs, students use state-of-the-art hardware, as well as a wide variety of two-dimensional, three-dimensional, and graphics software applications. Advanced tools, including motion capture, gaming, 3-D printing, and emerging technologies, are considered among the most advanced in the metropolitan area.
In addition to receiving an academically rich course experience, the student of digital art and design will be introduced to practical concerns related to the professions of computer graphics and graphic design. This takes place through the integration of industry-driven content into the classroom in the forms of real-world projects, internships, site visits, and industry presentations. Digital Art and Design students' academic research is further enhanced with multidisciplinary, practical, and global experiences in the context of New York Tech's diverse regional and international communities.
International F-1 students who successfully complete this degree are eligible for an additional 24-month STEM OPT extension to work in the U.S. in an area directly related to their area of study immediately upon completing the customary 12-month post-completion Optional Practical Training (OPT).
The Department of Digital Art and Design offers the following degrees:
B.F.A. in Digital Arts
B.F.A. in Graphic Design
Digital Arts
Today, digital art is a much sought-after field of study due to its expansive use in a variety of visualization applications throughout the world. Without the foundations in the principles of design, studio practice, and a portfolio of critiqued work, the application rarely produces professional results.
Our goal is to help students understand the relationship of design and technology. This allows the student to develop the ability to create and compose content that communicates ideas in an effective manner for both general and specific markets. Successful presentations will educate, inform, motivate, entertain, persuade, challenge, and inspire audiences while transcending the medium of delivery.
The digital arts major will take courses in areas including animation, 3-D modeling, character development, digital sculpture, interactive/game design, motion capture, motion graphics, and storyboarding.
Graphic Design
Graphic design as an industry has become a significant growth area worldwide. With the rapid changes taking hold in the way business and advertising are being conducted today, it is no wonder that experts have targeted graphic design as the profession to manage and deliver the volume of information that is exponentially produced and consumed.
The new graphic designers must be able to design and direct a multitude of media without being lost in the avalanche. The graphic design sequence of courses prepares our students to accept the challenge by integrating and interpreting the language and syntax of visualization within emerging technology. This knowledge and skill has become the current entry-level requirement of the industry. New York Tech students will be well prepared at their first employment interview with portfolio in hand and on a web page.
The graphic design major will take courses in areas including advertising, currency, editorial, illustration, information graphics, branding, layout, motion graphics, packaging, typography, and web/interactive design.
---
Back to Top
This program follows our general admission requirements, plus a portfolio review.
Portfolios
Portfolios should include assignment-based projects and/or self-directed work that demonstrate art, design, and conceptual thinking skills. The artwork should be original and cannot be reproductions of already existing artwork or designs.
Portfolio Requirements
Ten original artworks in digital, traditional, or mixed media mediums that showcase an understanding of art, design, and conceptual thinking. Submissions can be entirely digital, entirely traditional, or a mix of styles.
A description sheet that includes the following information for each submitted artwork: title, medium, dimensions, date of creation, running time (if applicable).
Formats
All artwork must be submitted in PDF file format.
Description sheet must be submitted in PDF file format.
Animation/Video work (max. 3 minutes) may be included as a link to an uploaded file on YouTube, Vimeo, or a personal website. Please include the URL in your description sheet.
Application Materials