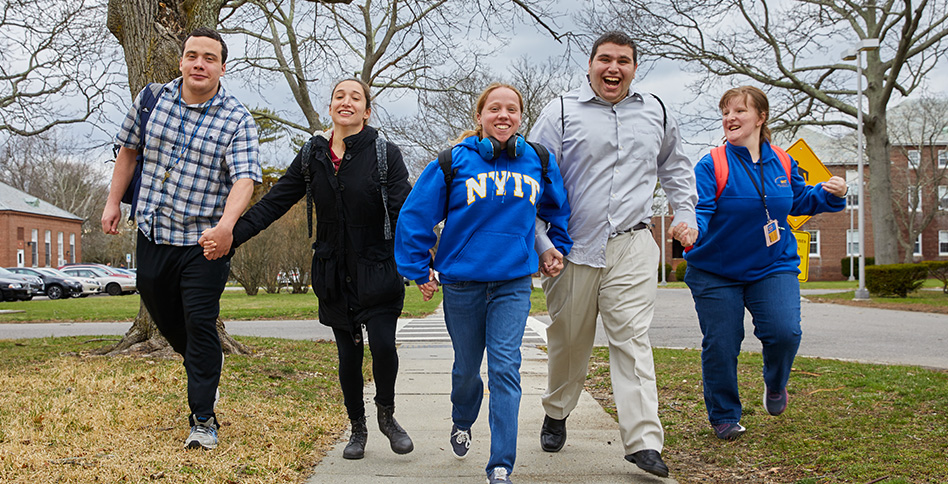 Vocational Independence Program
Senior Director: Paul Cavanagh, Ph.D.
Faculty: C. Alter, J. Baron, R. Bradley, A. Colvin, S. Delaney, R. Ezeani, G. Frisina, C. Hawkins, K. Imperial, C. Jockle, M. Ranaldo, W. Russell, H. Schorr, M. Smith, C. Taylor, E. Vlasak.
The NYIT Vocational Independence Program (VIP) is a three-year certificate program for students with moderate to significant learning disabilities, including those with a diagnosis of high-functioning autism or an autism spectrum disorder. Our mission is to maximize the potential of individuals with learning differences to enable them to lead successful, independent lives. The Vocational Independene Program is officially designated by the U.S. Department of Education as a Comprehensive Transition and Post-Secondary (CTP) program, a designation that allows VIP students to be considered for specific types of financial aid: Pell Grants, Federal Supplemental Educational Opportunity Grants (FSEOG), and work-study funds.
VIP students select from either a vocational or degree preparation concentration, and receive instruction in academics/executive functioning, social functioning, independent living competencies, and vocational skills. Depending on a student's concentration, he/she performs extensive community-based work internships and/or takes credit classes at NYIT's Long Island (Old Westbury) campus (transportation is provided). In addition to social and recreational activities on campus, the program offers day trips, weekend outings, and an annual (and optional) trip abroad. Recent international trips have included Greece, Italy, Ireland, Costa Rica, Spain, Netherlands, Germany, Belgium, Mexico, Belize, and France.
VIP Certificate
Founded in 1987, NYIT's program is one of the oldest, residential, university-based CTP programs in the United States. Its students are members of the NYIT community and live on the SUNY Old Westbury site, where a senior director leads the program.
After completing a common core curriculum, students choose to go on to either employment preparation (for students whose primary post-graduation goal is to obtain employment) or degree preparation (for students who want to matriculate at a community or junior college, a technical school, or a four-year college).
After completing three years of primarily non-credit coursework (each semester averaging the time equivalent of 15–18 credits of classes and internships), the goal for VIP graduates is to achieve one of two outcomes: 1) they transition into the world of work and independent living, or 2) they transition full-time into a degree-bearing college, university, or technical school program, eventually leading to work and independent living.
VIP classes are kept small to support a student's transition to a college environment. Community-based internships and training in independent living and social skills supplement formal classes. A unique aspect of VIP is that it is the only transition program in the country with an extensive classroom and experiential travel-training curriculum during a student's first two years. Students who qualify through an ongoing appraisal process may enroll in NYIT credit courses.
Students receive grades and/or assessments for all aspects of the program, including lecture classes, vocational instruction, and independent living instruction. Instructors provide students with course outlines and objectives at the start of each semester.
The program's support structure is strong, with at least four advisers/counselors who coordinate the academic, budgeting, vocational, and social dimensions of each student's program. A full-time director of residential life, a full-time medical director, and trained resident advisors staff the program's residence hall, providing 24/7 support for students.
The academic-year Transition to Independence Program
In their first year, students take classes that help them adjust to the collegiate experience (e.g., executive functioning skills, managing a personal budget) as well as core courses in health, social psychology, computers, and civics. Classroom experiences help them to maximize their potential for independence, and both classwork and homework have an experiential focus. Students do much of their learning outside the classroom as part of the larger NYIT community, with field trips to nearby Long Island and New York City sites rich in historic, cultural, and environmental relevance. VIP freshmen use class time to explore different avenues of independence in conjunction with their employment training, as instructors help them to discover and expand personal strengths. Each student receives personalized academic advisement as well as access to a computer lab study hall.
During the second year, VIP students build on the growth they achieved during the first year. For students focused on an employment outcome, their classroom experiences continue to help them develop essential skills, and they participate in a community-based vocational internship in one of several focus areas, such as childhood recreation, office skills/clerical, retail, electronics recycling, food services, maintenance, and hospitality. Examples of placements by focus area are Marriott and Holiday Inn Express for hospitality, eWorks for electronics recycling, as well as Marshalls and Modell's stores for retail. Sophomore students also hone communications skills in classes and are taught in technology-rich environments with computers, Smart Boards™, and videos to foster learning. For example, the Food and Nutrition course provides students with instruction on preparing healthy meals in a newly constructed teaching kitchen with a computer-teaching podium and a large plasma-screen monitor. Students focus on preparing to continue with college after VIP begin taking from 3–9 credits at the NYIT Long Island (Old Westbury) campus. They particularly focus on core classes easily transferred to other academic institutions.
By the third year, VIP students expand their participation in community-based vocational internships and/or in credit classes at NYIT. The VIP third-year curriculum focuses on living independently. Food and nutrition, budgeting, and apartment living are key topics. The last portion of the spring semester consists of hands-on workshops on topics that students will face after graduation; from interview techniques to dressing for success, students have the opportunity for "dry runs" with the support and guidance of advisers. In all cases, students move at their own pace and with ample feedback from faculty and staff members who are involved with their progress.
Employment Focus
The employment focus of the Vocational Independence Program emphasizes a cooperative educational approach that utilizes the resources of NYIT and the overall community. For students who choose the employment focus, the curriculum is geared toward developing the necessary work skills and environmental awareness to secure some level of competitive work following graduation. Even students in the Pre-Degree Program will participate in some aspects of the vocational curriculum and community work internships. VIP first-year students use class time to explore different avenues of independence in conjunction with their vocational training, and instructors help them to discover and maximize personal strengths. They learn about career options through lectures, workshops, and job evaluations at several job stations. Input from social, academic, and vocational counselors plays an integral role in helping students to formulate a realistic understanding of the requirements and potential of each vocational area. This experience and counseling, coupled with vocational testing and observations by staff, enables students to choose a vocational major by the end of their first semester. During the second semester, they begin intensive skills training in a vocational field and have specific work experience. Students interact with career counselors and job coaches who provide on-site supervision on an as-needed or ongoing basis. The curriculum also includes training in interviewing skills, resume writing, understanding of benefits, and job search techniques. VIP students have completed community work internships at the Childcare Council of Suffolk County, Computer Associates, Megan's Law, and Stony Brook University Medical Office.
During their second year, students continue skills training while working at an internship for two days per week. By their third year, they are assigned to a work placement for three days per week, while continuing to receive guidance and training in vocational coursework and counseling.
Pre-Degree Focus
In consultation with VIP staff and an academic advisor, some students select to pursue a pre-degree focus. The post-graduation goal of these students is to matriculate at a community or junior college, a technical school, or a four-year college. All students take a set of core curriculum courses in the fall semester of the first year. Students approved for the degree preparation concentration will work with an academic advisor to register for credit classes either during the spring semester of their first year or in the fall semester of their second year. Typically, students take one or two three-credit courses that meet two days per week. Based on their comfort with the work and their success in earlier semesters, some students may take as many as three classes per semester in their third year.
VIP students taking credit courses are encouraged to utilize all of the many facilities NYIT offers to support individuals with learning disabilities, such as the NYIT-Long Island (Old Westbury) Learning Center and the Counseling and Wellness Center. They are also provided with academic counseling and access to study halls and computer labs. Initial registration advisement is provided by VIP, and in the case of a student matriculated to a degree program, by the particular NYIT academic department. Students are advised to register for core courses with a high probability of transfer to another college upon completion. VIP does not provide tutors for credit classes, though students procuring their own tutors are free to meet with them at VIP facilities.
Students in the Pre-Degree Focus program participate in the vocational assessment process of the VIP freshman curriculum; however, they will usually not have a vocational placement in their sophomore year. Whenever possible, pre-degree students will have a one-day-per-week work internship in their third year.
Whereas it would be unusual for a student attending VIP to complete a degree during the course of the program, it can occur in the case of a student who brings a considerable transcript of completed work from another college. VIP works with the NYIT Office of Admissions to evaluate such transcripts. Credit coursework supplements a VIP student's overall program. It can play an important role in preparing a VIP student for his/her next step, whether it be vocational or a transfer to another college or program.
Sample Course Selections By Year
First Year
Advanced Communication
Banking and Budgeting
Civics/Government
Cooperative Education/Vocational Internships
Enrichment Classes (electives)
Fitness
Health
Independent Living Lab (as needed)
Introduction to Employment
Executive Functioning I
Nutrition
Pre-College English
Social Psychology I
Travel Training for Community Living
Second Year
Advanced Communication
Advanced Travel Training for Community Living
Banking and Budgeting II
Computer and Media Applications
Credit Classes for Degree Preparation Students
Enrichment Classes (electives)
Employment Strategies
Fitness
Food and Nutrition (a hands-on, kitchen-based course)
Executive Functioning II
Social Psychology II
Vocational Internship Seminar
Vocational Work Internship
Third Year
Community Living
Credit Classes for Degree Preparation Students
Enrichment (elective classes)
Employment Readiness Seminar
Capstone/Executive Functioning for Community Success
Fitness
Foods and Nutritional Practicum (a hands-on, kitchen-based practicum)
Transition Seminars
Junior Seminar/Community Communication
Vocational Work Internship
Associate Degree Support Program
The Associate Degree Support Program at VIP provides qualified students the opportunity to pursue an associate degree in three years with additional supports traditionally offered within the VIP program. Students have the option of pursuing an Associate of Applied Science degree in Communication Arts or an Associate of Applied Science degree in Business Administration with a concentration in Accounting. Students are supported in the program by a credit course coordinator, academic advisor, social counselor, and, if needed, an independent living skills coach.
For acceptance into the program, students must apply and be accepted separately to BOTH the NYIT Undergraduate Admissions office AND to the NYIT-Vocational Independence Program.
Recent guidelines to be considered for undergraduate admissions are as follows:
the SAT (combined score of 900 or better), or ACT (score of 19 or better) exam, and
have a GPA of 80 or above
Students in the Associate Degree Support program participate in the executive functioning and independent living components of the VIP curriculum, but they do not participate in the vocational components of the VIP curriculum.
Introduction to Independence (I to I) Summer Program
This five-week summer bridge program is designed to assist students in their transition from high school to post-secondary life. Students ages 17 years old and up are invited to live on our SUNY Old Westbury site where they focus upon the acquisition of independent living, social, and vocational skills. Read more about this summer program on the NYIT website.
Campus Life
NYIT's Long Island (Old Westbury) campus, formally known as the Dorothy and Alexander Schure Old Westbury campus after the founder of the university, is nestled among 176 wooded and landscaped acres. A tranquil and lush setting, it comprises the former C.V. Whitney estate as well as several other Gold Coast Long Island estates.
VIP students enjoy all the services and amenities that the campus offers its students, including such things as NYIT libraries, student-run clubs and activities, athletic and other campus events, academic resources, and other student services. All residential NYIT students on Long Island live in residence halls located at the State University of New York (SUNY) Old Westbury campus. VIP has its own residence hall, exclusive to our students, within this residential village. Visit NYIT-Long Island (Old Westbury) campus for more information and to take a virtual tour.
VIP residential staff consists of a full-time coordinator of residential life, a full-time medical director, and trained resident advisors, who are on duty every evening starting at 5 p.m. and throughout the weekend.
Student Population
Students have either graduated from a secondary-school program or sometimes their secondary-school provider will contract with VIP to meet the requirements of transition planning for students receiving IDEA special education services. VIP students generally have specific learning disabilities and have received special education services in high school. Reading levels range from third grade to above 12th grade.
A flexible orientation placement process allows for a wide spectrum of abilities. Participants must be able to fit comfortably into the NYIT environment and demonstrate the ability and desire for the program outcomes of either employment or matriculation in a degree-focused educational setting. In addition, students are screened for emotional needs to ensure the program is able to support them. VIP is not a residential treatment facility and does not accept students with significant mental health disabilities.
Admissions
The program accepts a freshman class of 20 to 40 students from around the world. VIP students must be at least 18 years of age. Admission decisions are made on a rolling basis, and it is recommended that candidates apply as early in the school year as possible due to limited space. VIP admits students of any race, creed, gender, and national or ethnic origin.
Candidates are encouraged to visit NYIT's campus with their parents or caregivers prior to submitting an application. These visits provide applicants with the opportunity to meet with faculty and administration, observe classes, talk with students, and tour the campus. The formal application includes a parent application, references, school records, psychological/intelligence testing results, and social adaptive testing scores such as the Vineland. Potential students and their caregivers are required to participate in an on-campus admissions interview.
| | ANNUAL | SEMESTER |
| --- | --- | --- |
| Tuition | $53,550 | $26,775 |
| Room | $9,500 | $4,750 |
| Meal Plan | $4,970 | $2,485 |
| Health Insurance* | $1,380 | $690 |
| Total | $69,400 | $34,700 |
| Tuition Refund Insurance** | $328 | $164 |
---
According to published NYIT guidelines:

* Health Insurance is optional as long as the student provides proof of insurance and chooses to opt out
** Tuition Refund Insurance is optional, but the student must explicitly request to opt out
Note: The Vocational Independence Program of NYIT is approved by the U.S. Department of Education as a Comprehensive Transition and Postsecondary (CTP) Program. VIP students are eligible for some forms of federal student aid. Students accepted into the Associate Degree Support Program must be accepted by the college and the Vocational Independence Program. Consequently, as a full-time student pursuing a degree, Associate Degree Support Program students are eligible for all forms of federal student aid.
Vocational Independence Program
P.O. Box 8000
Northern Boulevard
Harry Schure Hall, Room 207
Old Westbury, NY 11568-8000
631.348.3114
nyit.edu/vip