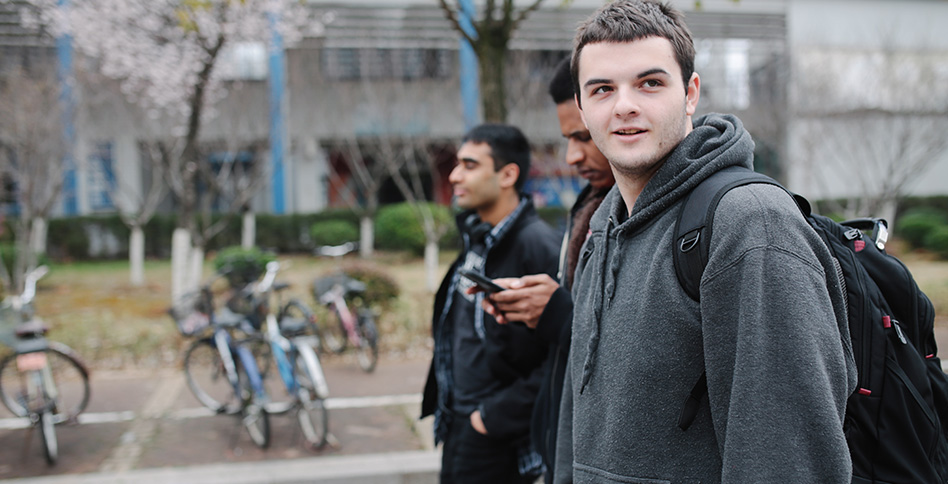 NYIT Global Campuses and Programs
Campuses and programs in China, the Middle East, and Canada offer the same coursework as NYIT classes in New York, and degrees earned by students at NYIT's global campuses are the same as those earned by NYIT-Long Island (Old Westbury) and NYIT-New York City (Manhattan) students. All classes are taught in English by NYIT faculty visiting from the United States or appointed locally. From time to time, distance learning courses are offered, where students and faculty from other NYIT campuses connect virtually to exchange ideas and benefit from a positive cross-cultural learning experience.
Because course curricula and program requirements are the same at all campuses, NYIT students can study and participate in global exchange programs offered at any NYIT campus. For more information on all NYIT global campuses, programs, and exchange opportunities, go to nyit.edu/visit or call 516.686.7409.
In addition to programs offered at its global campuses and through numerous partnerships (see Global Partnerships), NYIT offers several global programs through its Center for International Business Studies, including an M.B.A. program in conjunction with Jiangxi University of Finance and Economics (JUFE), a dual-degree master's program with Tongji University, and a dual-degree master's program with Xiamen University, all located in the People's Republic of China.
Academic Programs at NYIT's International Campuses
Canada (Vancouver)
Graduate Academic Programs
Business Administration—general business, finance, management of information systems, or marketing
Information, Network, and Computer Security
Instructional Technology for Educators
Energy Management
China (Beijing)
NYIT offers a rich array of programs to Beijing students hosted by the Communication University of China (CUC).
Undergraduate Academic Programs
Advertising, Public Relations, and Technology
Digital Arts
Digital Film and TV Production
Graphic Design
Management, with a focus in Marketing
Graduate Academic Programs
Communication Arts
Digital Art and Design – Animation
Digital Art and Design – Graphic design
China (Nanjing)
NYIT's campus is part of the larger campus of Nanjing University of Posts and Telecommunications (NUPT), offering NYIT-Nanjing students vibrant academic and cocurricular options.
Undergraduate Academic Programs
Electrical and Computer Engineering
Computer Science
Management, with a focus in International Business
Communication and Media Production
United Arab Emirates (Abu Dhabi)
NYIT-Abu Dhabi is located in the center of the exciting, modern capital city of the United Arab Emirates (UAE), where innovative and dynamic changes have contributed to the sustainable development of the region.
Undergraduate Academic Programs
Business Administration, option in General Management
Mechanical Engineering
Interior Design
Graduate Academic Programs
Business Administration
Instructional Technology
Information, Network, and Computer Security