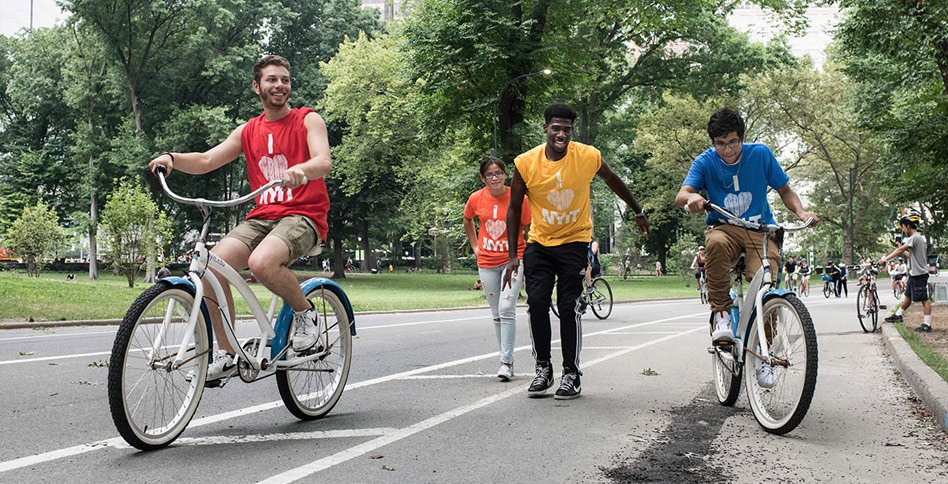 Student Activities
NYIT campuses provide a developmental environment that promotes personal responsibility and leadership through involvement in cultural, educational, and social events outside the classroom. Most activities are initiated through student-run, extracurricular and academic organizations, including publications, radio stations, and groups with social, service, religious, and special-interest affiliations.
There is an Office of Student Activities and Leadership Development on each NYIT campus to coordinate extracurricular activities and provide a liaison to student government organizations. Professional staff members advise student organizations, schedule campus facilities for student programs, assist in forming new clubs, and coordinate an orientation program for new students.
Academic Clubs: NYIT academic schools actively advise and support student-run organizations, most of which maintain national affiliation with professional societies. Involvement and membership include participation in special projects, benefits of affiliation with professional societies, and assisting the school and its students in furthering educational programs.
Honor Societies: International and national honor societies that recognize distinction in scholarship and achievement offer membership to high-achieving students. NYIT has chapters in two nationally recognized, non-discipline-specific honor societies:
Phi Eta Sigma National Freshman Honor Society accepts full-time matriculated students who have earned a 3.5 GPA or higher during the fall or spring semesters of their first year at college.
Golden Key International Honor Society accepts full-time, fully matriculated students of sophomore, junior, or senior status who have successfully completed at least 31 credits (transfer students must have received at least 12 of these credits from NYIT), and have demonstrated scholastic excellence by maintaining a 3.7 GPA or higher.
Discipline-specific honor societies recognize high academic achievement among students majoring in particular subjects. NYIT has active chapters in a number of discipline-specific national honor societies; membership is open to upper-class and graduate students, and each is administered through their respective academic schools.
Student Organizations
Student Government Association: NYIT's Student Government Association (SGA) is the official voice of the student body. The SGA advocates on behalf of student interests—academic, cultural, and social.
Graduate Student Association: This group serves as the governing body and offical voice of gradaute students. They provide academic and social programming to connect graduate students to the NYIT community.
Special-Interest Groups: Each campus and its student government offer participation and membership in special-interest clubs, such as the International Student Association, Law Society, Women's Association, American Institute of Architecture Students, National Society of Black Engineers, Colleges Against Cancer, and Behavioral Science Club.
Social Organizations: Fraternities and sororities play an active role in the student activities program at NYIT. Membership emphasis is placed on leadership, friendship, creativity, and responsibility through social and service projects.
Religious Organizations: Intervarsity Christian Fellowship, Jewish Student Union, and Muslim Student Association are active in planning religious, cultural, educational, social, and nonsectarian activities for students, faculty, and staff.
Student Media: The Campus Slate on the Old Westbury campus is NYIT's student-run newspaper founded in 1966. It is published in print and online. NYIT also maintains the student-operated WNYT radio station on the Old Westbury campus. WNYT is heard online, with Internet-based programming via RealAudio. WNYT Radio also broadcasts NYIT Bears sports, giving more exposure to the station, along with universal praise from the music industry.
Athletics and Recreation
NYIT's athletic teams are known as the Bears and compete in NCAA Division II as members of the East Coast Conference (ECC), with the exception of its baseball team, which plays at the NCAA Division I level. The school colors are blue (PMS 660) and yellow (PMS 130).
In addition to baseball, NYIT offers men's and women's basketball, men's and women's cross country, men's and women's lacrosse, men's and women's soccer, women's softball, men's and women's tennis, and women's volleyball.
The overall cumulative GPA for NYIT's 13 intercollegiate programs is 3.21 after the 2015-2016 academic school year. All athletic programs engage in community service projects that foster social development by enabling student-athletes to bond with their internal and external communities. Programs include visiting neighboring elementary schools to participate in educational programs, senior citizens' visits, food drives, various walks for a cause, and a plethora of cleanup projects. Additionally, the Student-Athlete Advisory Committee (SAAC) sponsors a number of on-campus community awareness initiatives such as Night Out On the Bears, Dig Pink and Play 4Kay (breast cancer awareness), Day with the Bears, and Make-A-Wish fundraising initiatives.
The Bears athletic programs have had much success on the fields of play. The lacrosse team has won four national championships, in 1997, 2003, 2005, and 2008. The men's basketball team reached the NCAA Division II Championship game in 1980. The volleyball team reached the NCAA tournament every year from 2001–2006, as well as 2011–2013, 2015, and 2016; and the men's soccer team reached the NCAA Division II Final Four in 1985 and the Elite Eight in 2005.
The volleyball team has made 11 NCAA Tournament appearances since 2001, and made history in 2015 when they won the program's first East Region Championship to advance to the NCAA Elite Eight. The men's soccer team reached the NCAA Division II Final Four in 1985 and the Elite Eight in 2005.
The men's and women's tennis teams have also been successful; the men reached the Elite Eight and the women reached the Sweet 16 in 2016, with both teams taking home their fourth consecutive conference titles last season. Men's soccer captured the 2014 East Coast Conference Championship. The women's basketball team has reached the NCAA Tournament in consecutive seasons and posted the program's first two tourney wins in 2016. Eight Bears earned All-American accolades in their respective sports.
After the appointment of new Director of Intercollegiate Athletics & Recreation, Duane Bailey, in June 2015, renovations surrounding the Sports Complex began. The construction of a fitness center in the former Hall of Fame lobby was completed, locker room space expanded, and the tennis courts received a facelift after a harsh winter.