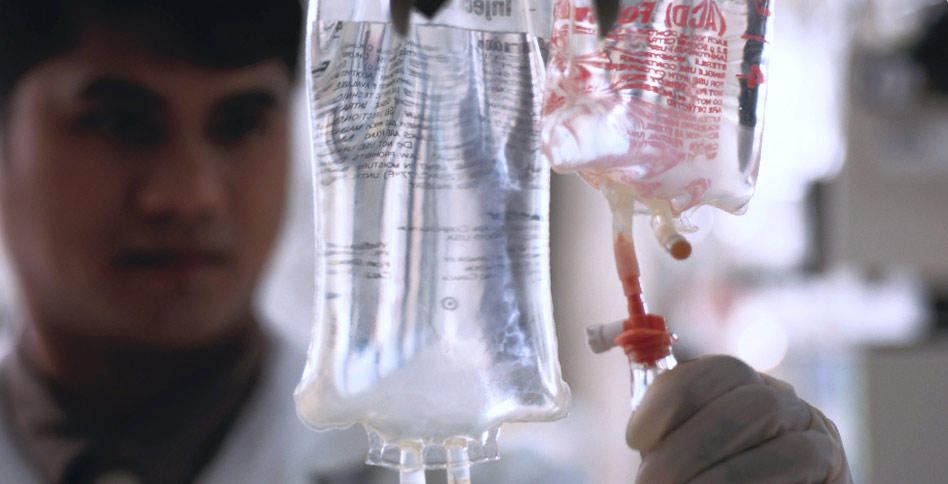 Postdoctoral Education
New York Colleges of Osteopathic Medicine Educational Consortium – NYCOMEC
The New York Institute of Technology College of Osteopathic Medicine's commitment to education and its students does not end at graduation. In January 1995, the college formed an educational consortium, NYCOMEC, with its affiliated institutions for the purpose of ensuring quality osteopathic postdoctoral education. Osteopathic postdoctoral education consists of traditional rotating internships, specialty residencies and subspecialty fellowships. With an emphasis on primary care, NYCOMEC sponsors programs approved by the American Osteopathic Association(AOA) and the Accreditation Council for Graduate Medical Education (ACGME), throughout New York, New Jersey and Arkansas.
The New York Colleges of Osteopathic Medicine Educational Consortium (NYCOMEC) is a collaborative relationship between the College of Osteopathic Medicine and NYCOMEC's other member institutions for the purpose of enhancing the quality of graduate medical education programs. NYCOMEC provides a framework for the development of a system of osteopathic graduate medical education that is both efficient and responsive to societal needs, emphasizing primary care and education in medically underserved areas. NYCOMEC is accredited by the American Osteopathic Association as an Osteopathic Postdoctoral Training Institution (OPTI) and the ACGME as an institutional sponsor. The OPTI model is structured to provide both high quality and cost effective internship and residency programs. The New York State Department of Health has also approved NYCOMEC as a Graduate Medical Education Consortium.
In addition to accreditation oversight from the AOA and ACGME, NYCOMEC conducts its own internal quality reviews. Interns, residents and fellows in NYCOMEC programs are invited to participate in special consortium-wide educational activities and receive diplomas acknowledging NYCOMEC, the college, and their individual hospitals.
As one of the largest graduate medical education consortiums in the osteopathic profession, NYCOMEC is committed to providing quality osteopathic postdoctoral education and preparing for the single accreditation system.
Postdoctoral Programs
Rotating Internships
Coney Island Hospital
HackensackUMC Palisades
Nassau University Medical Center
Newark Beth Israel Medical Center
Orange Regional Medical Center
Peconic Bay Medical Center
Plainview Hospital
Southampton Hospital
South Nassau Communities Hospital
St. Barnabas Hospital
Cardiology Fellowships
Coney Island Hospital
Nassau University Medical Center
Dermatology Residencies
HackensackUMC Palisades
St. Barnabas Hospital
Dermatopathology Fellowship
Ackerman Academy of Dermatopathology
Developmental Medicine Fellowship
The Center for Discovery
Emergency Medicine Residencies
Coney Island Hospital
Good Samaritan Hospital Medical Center
Nassau University Medical Center
Newark Beth Israel Medical Center
Orange Regional Medical Center
St. Barnabas Hospital
Emergency Medicine/Family Medicine Residency
St. Barnabas Hospital
Emergency Medicine/Internal Medicine Residency
St. Barnabas Hospital
Endocrinology Fellowship
Coney Island Hospital
Family Medicine Residencies
Arkansas Methodist Medical Center
Brookhaven Memorial Hospital Medical Center
Ellis Medicine
Good Samaritan Hospital Medical Center
HackensackUMC Palisades
Jamaica Hospital Medical Center
Nassau University Medical Center
NEA Baptist Memorial Hospital
Orange Regional Medical Center
Peconic Bay Medical Center
Plainview Hospital
Saint Barnabas Medical Center
Sisters of Charity Hospital
South Nassau Communities Hospital
St. Barnabas Hospital
The Institute for Family Health
Gastroenterology Fellowships
Coney Island Hospital
HackensackUMC Palisades
General Surgery Residencies
East End Health Alliance
Flushing Hospital Medical Center
Good Samaritan Hospital Medical Center
Hackensack UMC Palisades
NYU Lutheran
Orange Regional Medical Center
St. Barnabas Hospital
Wyckoff Heights Medical Center
Geriatrics Fellowship
South Nassau Communities Hospital
Gynecologic Oncology Fellowship
Good Samaritan Hospital Medical Center
Hair Loss Medicine/Surgery Fellowship
Southampton Hospital
Hematology/Oncology Fellowship
Nassau University Medical Center
Hospice and Palliative Care Fellowships
Jamaica Hospital Medical Center
Parker Jewish Institute for Health Care and Rehabilitation
Southampton Hospital
Hospitalist Medicine Fellowship
Peconic Bay Medical Center
Infectious Disease Fellowship
Coney Island Hospital
Integrated Family Medicine/Neuromusculoskeletal Residency
Southampton Hospital
Internal Medicine Residencies
Coney Island Hospital
HackensackUMC Palisades
Jersey City Medical Center
Nassau University Medical Center
NEA Baptist Memorial Hospital
Newark Beth Israel Medical Center
Orange Regional Medical Center
Sisters of Charity Hospital
Southampton Hospital
St. Barnabas Hospital
St. Bernards Medical Center
Trinitas Regional Medical Center
Nephrology Fellowship
Coney Island Hospital
Neuromusculoskeletal Medicine Residency
St. Barnabas Hospital
Neuromusculoskeletal Medicine Plus One Residencies
Southampton Hospital
St. Barnabas Hospital
Neurosurgery Residencies
Saint Barnabas Medical Center
Obstetrics/Gynecology Residencies
Coney Island Hospital
Good Samaritan Hospital Medical Center
HackensackUMC Palisades
Sisters of Charity Hospital
Wyckoff Heights Medical Center
Orthopedic Surgery Residencies
Jersey City Medical Center
Nassau University Medical Center
Plainview Hospital
Otolaryngology/Facial Plastic Surgery Residency
Saint Barnabas Medical Center
Pediatrics Residencies
Coney Island Hospital
Good Samaritan Hospital Medical Center
Maimonides Medical Center
Newark Beth Israel Medical Center
Wyckoff Heights Medical Center
Pediatric Emergency Medicine Fellowship
Good Samaritan Hospital Medical Center
Physical Medicine and Rehabilitation Residency
Nassau University Medical Center
Plastics and Reconstructive Surgery Fellowship
St. Barnabas Hospital
Psychiatry Residencies
Nassau University Medical Center
Orange Regional Medical Center
Pulmonary Critical Care Fellowship
Nassau University Medical Center
Radiology Residency
Brookhaven Memorial Hospital Medical Center
Sports Medicine Fellowships
Plainview Hospital
Saint Barnabas Medical Center
Surgical Critical Care Fellowships
NYU Lutheran Medical Center
St. Barnabas Hospital
Vascular Surgery Residencies
NYU Lutheran Medical Center
Sisters of Charity Hospital